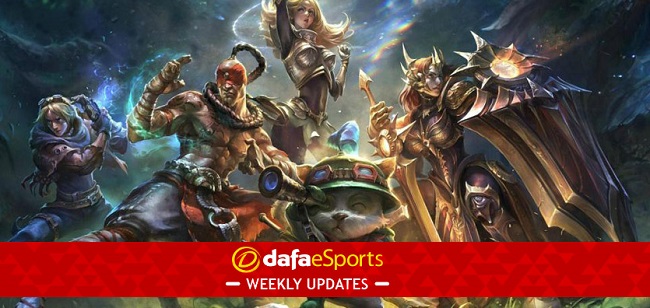 The League of Legends Championship Series Spring season enters the final week of its regular season with two play-off spots still up for grabs.
One of them is Golden Guardians' to lose as they look to join the already-qualified Team Liquid, Cloud9, TSM and FlyQuest.
However, who claims the final berth is anyone's guess with the final-round match-up between Echo Fox and Counter Logic Gaming likely to be crucial.

Guardians in box seat
Golden Guardians (7-9) currently sit in the driving seat, being at least a game up on the rest of the competition after a 1-1 week eight that saw them take down fellow play-off hopefuls Clutch Gaming.
The Guardians have been playing to their strengths with Froggen on Karthus. The key improvement of late has been the play of Deftly who has looked comfortable across a myriad of different champions.
Hauntzer, on an initiating tank, appears to also be a solid strategy for the Golden Guardians and, perhaps more than any other team attempting to make the play-offs, they have a clearly-defined identity which they can look to play around.
The Guardians have a middle-of-the-road schedule in the final week, playing OpTic (still chasing a play-off spot) and then FlyQuest (who have already locked one in).
The Guardians are odds-on (1.709) to beat OpTic but outsiders (2.320) against FlyQuest.
Echo Fox have momentum
Coming fresh off a 2-0 week are Echo Fox (6-10), who have an incredible amount of momentum.
Rush being back in the starting line-up has clearly helped this squad, unsurprising given the almost-unanimous feeling that removing him in the first place was a bad idea.
Echo Fox took down Cloud9 last week, although keep in mind that was due to a single, massive error that Cloud9 made, something that is not going to occur regularly in the future.
With Rush on more facilitative champions, Fenix has emerged as a true showstopper with his Azir being legendary, dating back to his time on Team Liquid.
With consistent other lanes, the crux of Echo Fox's chances will depend on whether or not Rush can set up the rest of the team, specifically Fenix, to have the best opportunities possible to find an impact.
The problem for Fox is their level of opposition. They open the week against leaders Liquid, a contest for which they are 3.870 underdogs, before a potentially-huge clash against Counter Logic Gaming. The odds for that one have Echo Fox as marginal favourites – 1.877 to CLG's 1.934.
Comfy schedule for CLG
CLG enjoyed a key win against fellow 6-10 team OpTic last week before falling to TSM despite a solid performance from Darshan on Neeko.
CLG have the easiest schedule of any team this week with matches against basement-dwellers 100 Thieves and the aforementioned Echo Fox, who currently sit eighth.
PowerOfEvil remains the core of this team, but the continued improvement coming out of Darshan is notable given the amount of pressure and solo kills he has been able to rack up. This makes Darshan the X-factor for his team, with the ebb and flow of CLG's success tied very closely to how he and PowerOfEvil are able to perform.
Rookie Jungler Wiggily is entering his first real pressure matches, so he could be the most susceptible to an up-and-down showing.
Clutch still in it
Clutch Gaming (5-11) technically still have a chance to force their way into the play-offs but they have a tough schedule (third-placed TSM before second-placed Cloud9) and would also need a lot of results to go their way.
Therefore the other team in realistic contention are OpTic Gaming, who are coming in off a brutal 0-2 week.
OpTic appear to be falling at the finish line after a decent season and that could mean they bring in someone like Dardoch this week. Crown remains the best and most consistent member of the team. He has come into his own in North America with a seemingly endless supply of playable champions.
Dhokla on the Top side has a difficult task this week, going up against both Hauntzer and Ssumday, of Golden Guardians and 100 Thieves respectively.
OpTic are slight underdogs at 2.160 against the Guardians but are 1.653 favourites to send the Thieves crashing to another defeat.