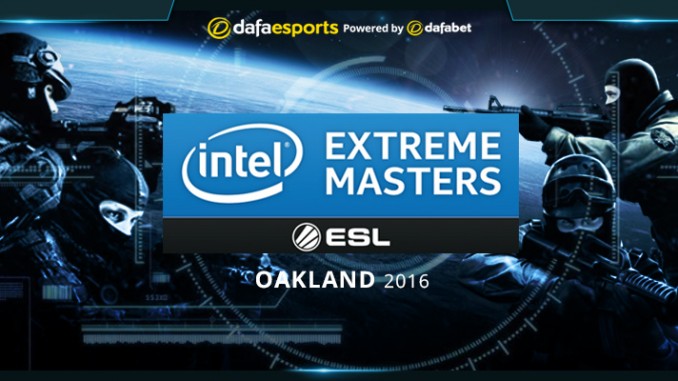 Twelve world-class CS:GO teams will gather together for yet another Intel Extreme Masters event, held for first time in Oakland, USA, as they bid to compete for a share of the $300,000 prize pool.
The first match will start on November 16 with many teams believing they have what it takes to claim victory but whilst none can be written off, some have more obvious chances than others.
The favourites:
Cloud9 are among the teams that were not directly invited to the tournament, but the talented outfit are currently on a roll and enter serious calculations as a possible winner. The team won the latest Premier tournament – SL Pro League Season 4 – Finals after defeating SK Gaming and before that also enjoyed a good September finishing second twice and once third in premier tournaments. Cloud 9 are a team made up of strong individuals but the hot form of young star Jake "Stewie2k" Yip and Timothy "automatic" Ta have been significant contributors towards their good recent run.
SK Gaming are another of the strongest teams of the moment and feature one of the most impressive players on the CS:GO scene – Marcelo "coldzera" David.  SK won the ESL One: Cologne 2016 in July, but since then they have gone fairly close without being victorious. In October, they had a three premier tournament participations finishing twice 3-4th, and 2nd in the recently concluded SL Pro League Season 4 – Finals. SK are hungry to get back on top and this could easily be the tournament for that to happen and they will surely be on many people's shortlist.
Ninjas in Pyjamas have experienced a number of ups and downs over recent months, but they did manage to win their first premier tournament since April – StarLadder i-League StarSeries Season 2 in September. October was not as successful, as the team disappointed during Epicenter, but they somewhat redeemed themselves with a 3-4th spot in the ESL Pro League Season 4 – Finals, where they lost out to SK Gaming in the semis.
Natus Vincere were back on track last month after being rather absent from the CS:GO scene in August and then put in a disappointing performance in the StarLadder i-League StarSeries Season 2 in September, where they finished 13th-16th. The team bounced back to win ESL One: New York 2016 in October after an impressive win over Virtus.Pro and finished 3rd-4th in the Epicenter.

The contenders:
Immortals may be a new team (formed in June 2016), but the Brazilians made an immediate impact on the pro CS:GO scene by winning  DreamHack Summer 2016 in June and Northern Arena 2016 – Toronto in September. They added Lucas "steel" Lopes to their roster earlier this month, which looks like a good move, and they arrive at Oakland as the best team from iBUYPOWER Masters after winning against Cloud 9.
G2 Esports have been quite inconsistent this season with some strong performances (Esports Championship Series Season 1 – Finals – 1st , StarLadder i-League StarSeries Season 2 – 2nd) along with a number of disappointing showings. October was a particularly bad month for the team, as in four tournaments, the best ranking that they managed to earn was 5-6th EPICENTER 2016. Hope is on the horizon though, as G2's performance in the recently concluded Northern Arena 2016 – Montreal (2nd) was very much better.
mousesports finished 7th-8th in the Intel Extreme Masters Season X World Championship in Katowice, in the tough group A. The team recently had to make a roster change after Tomas "oskar" Stastny went inactive, but the new replacement Christian "loWel" Garcia Antoran helped the team qualify for the ESL Pro League Season 4 – Finals and grab a prestigious 3-4th place last month.
Despite the arrival of Joshua "jdm64" Marzano and Jacob "Pimp" Winneche in June, Team Liquid are yet to win a Premier tournament this year. They came close in July when they finished 2nd in the ESL One: Cologne 2016, while at the next ESL in New York they managed 3rd-4th. Team Liquid's November was not so great and they arrive on the back of a poor show at the Northern Arena 2016 – Montreal, where they could only manage a 5-6th spot, but the team has the quality to do better than that.
The outsiders:
Heroic were only created in August, but the new team comprises of a number of talented Scandinavian players and could be going places. Despite their relative youth, Heroic have been securing spots in some of the high tier tournaments and even won a 3rd place at the Northern Arena 2016 – Toronto in September. In addition, Heroic have just finished 3-4th in last week's Northern Arena 2016 – Montreal, but they will of course face much stiffer competition here.
Astralis' unexpected 3rd-4th spot at the previous edition Intel Extreme Masters X – World Championship in Katowice earned them an invitation here, but the last time the team finished among the top four in a Premier tournament was back in June, during the DreamHack Summer 2016. They will need to up their game again if they want to repeat that success here in Oakland but they do have plenty of belief within the team.
TyLoo are the only Asian team in the tournament and undoubtedly one of the strongest teams in China and in Asia where they dominate the local scene and they have picked up a number of wins this season. However, TyLoo did not play that many games on the international scene and when they did, they found the Western opposition formidable. The team took part in StarLadder i-League StarSeries Season 2 in September, where they finished 9-12th and their 3-4th place in the iBUYPOWER Masters 2016 was enough for them to advance to the IEM Oakland.
FaZe almost failed to qualify but eventually they managed to prevail against the Renegades in the iBUYPOWER Masters to earn a spot in Oakland as 3rd-4th best team. They are another outfit to have been formed this year and they are a regular participant at the Premier events. They have though struggled to make a serious impact in any of the tournaments so far, although they are gaining invaluable experience for the future.