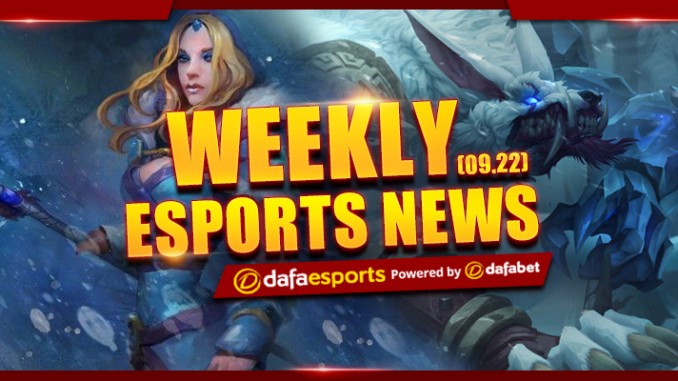 Welcome to the Weekly Recap, where we gather the top stories that happened in the past week to help you catch up with the busy world of eSports!
Automaton announces $10M investment to create MMO survival game
British game maker Automaton has raised $10 million to try and create a massively multiplayer online (MMO) survival game similar to the famous PlayerUnknown-Battlegrounds.
According to Esports Observer, the game will pit 1000 users against each other in a 12-kilometer field, like how PUBG players try to outlive each other, only in a bigger and better scale.
PUBG started as Arma and H1Z1 mods, but has been developed into its own game and is now evolving into an esport of its own.
FIFA 2018 to feature esports kits
In a move that will signify the combination of traditional and electronic sports, FIFA will feature kits of esports teams in its latest video game.
Professional esports players from Team liquid, Fnatic, and Vitality can now wear their own kits in tournaments, making it more engaging for more esports teams to play FIFA.
The kits will be usable in FIFA Ultimate Team Mode at first, but will be used in tournaments later.
Blizzard's Overwatch League now complete
The pre-season for the inaugural term of the Overwatch League will be held this December 6 at Blizzard Arena in Los Angeles, California, according to the company's latest announcement.
Blizzard stated the preseason will feature teams playing promotional games, much like how traditional American sports have long preseason activities.
The real competition will begin in January 10, 2018, with the playoffs beginning in July of the same year. All games will be played at the Arena, but the second season will be held at home stadiums of the franchisees.
Also in the statement are the three latest franchise owners: Comcast Spectator, EnVyUs, and OpTiC Gaming.
Comcast will house its team in Philadelphia, EnVyUs will camp in Dallas, and OpTic will call Houston its base.

ESL Hamburg qualifiers begin
The closed qualifiers for the first Dota 2 Major of the new and improved season has begun, starting with the tiered regional competitions.
The International 2017 winner Team Liquid and the runner-up NewBee are already qualified for the ESL Hamburg 2017, and one is given to each of the major regions – EU, CIS, China, Southeast Asia, North America, and South America.
Each qualifier start with 12 teams, including four Tier 1 invites, four Tier 2 invites and four teams from the open qualifiers.
In EU, T1 teams are already against teams who survived the battle between T2s and qualifier teams. T1 OG will be against SFT Esports, Mousesports will face Team Kinguin, HellRaisers will be against MidorFeed, Team Secret will battle ElementsPro.
In CIS, T1 Virtus.Pro will face Effect, while T1 Vega Squadron will play rejuvenated Natus Vincere, T1 Team Empire will fight M19, T1 Team Spirit will try to break down iPlay.
In China, open qualifier team Keen Gaming, formerly EHOME.Keen, stunned everyone en route to winning the qualifier, outrunning big teams like Invictus Gaming, both LGD and LGD. Forever Young and EHOME itself.
In SEA, T1 TNC will face the new-look Clutch Gamers, T1 Fnatic will face the white-hot Mineski, T1 HappyFeet will clash horns with WG.Unity, and T1 Execration will square up with Fire Dragoon.
In NA, T1 Evil Geniuses face Korean-filled Immortals, while T1 compLexity try to outmaneuver the veteran-laced squad the Dire. T1 VGJ.Storm play Wheel Whreck, while T1 Digital Chaos collide with Blue Pikachu.
In SA, T1 DC.SA will fight Infamous Young, T1 STARS will battle SG e-Sports, T1 Mad Kings grapple with Luccini and T1 Infamous tussle with Team Taka.
FaZe Clan sweep Liquid to win ESL One New York
FaZe Clan exceeded expectations after defeating Team Liquid 3-0 to win the ESL One New York.
Amid strong teams like SK Gaming, Astralis and Team EnVyUs, not many think FaZe Clan will win the New York event, but a strong start allowed them to rip through the group stage and dominate the knockouts.
FaZe began with a 16-5 thrashing of hapless Virtus.Pro, then destroyed Astralis 16-6 in the winners bracket to get the top seed in Group B.
The team did not even give Cloud 9 any fighting chance in the cross-group semi-final, winning 16-4 in Mirage and 16-3 in Overpass. C9 failed to score any point once the sides switched in both maps.
FaZe was as merciless in the final against Liquid, when it opened the series with a 15-0 first half in Inferno and went on to win the map 16-3. A second-half resurgence from Liquid made the Overpass battle a tight one, but FaZe still came out on top 16-14 and sealed the championship with a 16-4 win in Mirage.