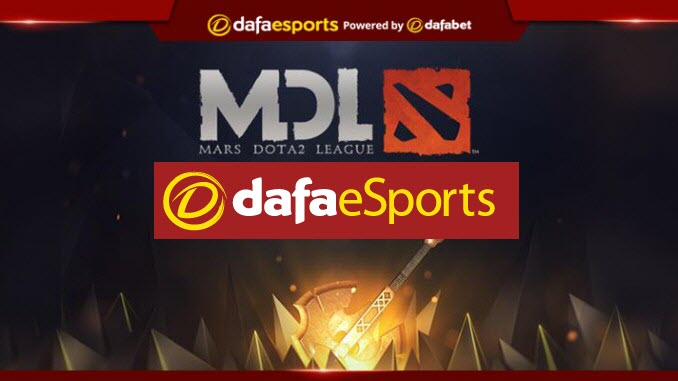 To kick off the month of May, Mars Dota 2 League (MDL) will stage their first ever Dota tournament outside of Asia.
With a staggering US$1million prize pool, and a total of 15,000 Pro Circuit Points up for grabs, top-tier teams from across the globe will converge on France.
The tournament should deliver many matches at the very highest level of tournament play.
With its massive prize fund, the event gives whoever wins a great chance of qualifying for the looming International this year.
For fans of the game, it is not to be missed.
Format
Interestingly, this tournament had no spots open for direct invites – something that MDL's previous tournament in Macau included. This means that every team in attendance had to earn their spot through the qualifiers. Fifteen of them did so via regional qualifiers, whilst the 16th slot was claimed by the OGA Dota PIT Minor winner.
For the first stage of the event, the teams will be split into four groups of four. For two days they'll fight within their groups, with the two best in each starting the play-offs in the upper bracket and the other two in the lower bracket.
The play-offs are a simple enough format – double-elimination to the best of three, though the first round of the lower bracket is best of one, and the grand final is best of five.
Teams
Qualifying from Europe are OG, Team Liquid and Secret. These teams are some of the best on the scene, with Liquid and OG boasting victory at the past two Internationals.
Liquid (8.580) seem to be set up to win. In February, they crushed the competition at MDL's previous tournament, smashing Evil Geniuses to take home the gold. Without any roster changes since 2017, Liquid's team is familiar, experienced and consistent. It's not hard to envisage them sweeping another MDL win here and pushing themselves up the PCP rankings.
OG (15.520) haven't fared so well since their shock victory at TI8. After being knocked into the lower bracket at ESL One Katowice and eliminated by the relatively-minor Gambit Esports, they may not be on their best form right now.
On the other hand, Secret – tournament favourites at 2.300 – seem to be on a hot streak. With gold medals at the Chongqing Major and ESL One Katowice, soundly defeating Russian giants Virtus.pro and Gambit Esports, Secret are on excellent form – though they may need to redeem their loss against Liquid at TI8 if they want to win in Paris.
Virtus.pro and Team Empire will be flying the flag for the CIS region.
While VP (6.640) looked unstoppable leading up to TI8, their elimination at the hands of Evil Geniuses may have knocked their confidence. Their performance has been pretty good but gone are the days of VP smashing their way through Premier after Premier. With a comfortable lead in terms of Pro Circuit Points, they are still in with a chance to win, though.
Empire (53.020), meanwhile, are undeniably in the lower ranks of the event. With less than $20,000 in prize-pool earnings so far this year, Empire may well be out of their league – but a surprise win is never impossible.
From North America, Evil Geniuses, compLexity Gaming and TEAM TEAM have qualified.
While EG (18.060) are one of the top teams in the world following their 3rd place at TI8, recent performances leave them in a precarious position. With crucial losses against VP, Liquid and Secret this year alone, they'll need to overcome these setbacks if they want to win.
TEAM TEAM and compLexity, both 83.580 outsiders, are among the lower seeds. These teams have enjoyed some success in Minors, but it's pretty unlikely that a strong performance at a Premier is within their reach just yet.
From China, PSG.LGD, Keen Gaming and Vici Gaming will compete.
Though LGD, 2.880 2nd favourites, are often considered the titan of the Chinese scene, they may well be the weakest of the three right now. Without any tournament victories outside of qualifiers since TI8, the team seems to be in something of a lull.
Meanwhile, Keen Gaming (18.760) have been surprising many with their level of performance this year, taking home the win at ESL One Mumbai and a silver medal at WESG 2018. Vici (2.920), too, have been on stellar form, narrowly beating VP for the win at DreamLeague Season 11, as well as earning a win at StarLadder. It wouldn't be hard to see one of Keen or Vici managing to sneak a win here at Disneyland.
From South East Asia, Fnatic and Mineski have qualified, although they've got a daunting task ahead of them.
Outside of qualifiers, Fnatic (19.600) have been eliminated by other competitors in this event every tournament so far this year – though they did manage a surprising 2-0 victory against Liquid during the Chongqing Major.
Mineski (42.840) are in a similar position, but with the added disadvantage of losing a few times to Fnatic. They did manage a 2nd place at ESL One Mumbai last month, but it's hard to see either of these teams challenging for the title.
From South America, paiN Gaming (83.580) and Chaos Esports Club (53.020) have earned their positions here. The teams have had some success in their region, but it would be a miracle for them to get ahead at this event. The South American region famously struggles during global tournament and these teams' performances would have to be truly stunning to match some of those in attendance.
Last but not least, we have the OGA Dota PIT winners, Ninjas in Pyjamas (34.640). With their origins in Counter-Strike, the organisation has only recently begun a foray into Dota 2. They managed an impressive victory at the qualifying event and the rest of their matches have been decent – but decent may not cut it at this level of play. They're in with a chance of claiming a chunk of the prize pool, but following recent losses to EG, OG and Keen, not a great one.