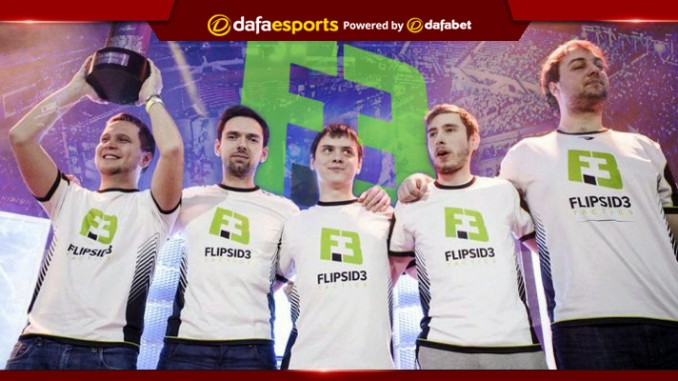 The Leipziger Messe in Germany was the site of the latest CS:GO tournament over the weekend as eight teams battled it out for the DreamHack Leipzig 2017 title and the accompanying $50,000 first place prize.
Heroic, Team LDLC.com, Fnatic Academy and qwerty were drawn together in Group A with FlipSid3 Tactics, BIG, Vega Squadron and Rogue battling it out in Group B, with the top two in each moving on to the semifinals.
FlipSid3 entered as favourites
It was not a surprise when FlipSid3 dominated the competition on their way to the championship at DreamHack Leipzig. However, while Flipsid3 were the pre-tournament favourites due to their consistency and vast experience, very few expected them not to drop a single map on the way to victory.
FlipSid3 started off the Group Stage against BIG (featuring tabseN, gob b and LEGIJA, formerly of NRG) with a solid 16-11 victory on Overpass. Following that match, FlipSid3 had their closest match of the tournament, defeating Vega Squadron (the team that recently destroyed top tier team Ninjas In Pajamas) 16-14 on Nuke to punch their ticket to the semifinals.
In the semis FlipSid3 met ex-Titan player Ex6TenZ and his LDLC squad. On LDLC's map pick of Cache, FlipSid3 put in a strong showing, winning with a 16-8 score line. Once FlipSid3 had taken their opponents' map choice it was all but over as FlipSid3 then dominated on Nuke to the tune of 16-10.
That best-of-three victory set up a Grand Final showdown against their first opponent of the tournament; BIG. FlipSid3 continued to dismantle their opponents with consistent high quality play all around, leading to a victory on the opening map of Cache with a 16-11 score line. In the final map of the tournament, FlipSid3 duplicated their previous score and defeated BIG on Train 16-11 for an impressive complete map shutout through the entirety of the tournament.
electronic clearly the MVP
As the newest addition to FlipSid3, electronic was dominant all tournament long. In the final alone electronic had 53 kills to 31 deaths and always seemed to be in the right place at the right time. While never having flashy play, electronic was a highly consistent contributor in every map, allowing captain B1ad3 to implement his strategy flawlessly. electronic's play was impressive on its own, but considering this was his first ever LAN (or offline tournament with a live audience) coupled with his limited time with FlipSid3, this was an absolutely incredible performance.

The subtle strength
One name that might go unnoticed for FlipSid3 due to electronic's stunning play this past weekend is wayLander, who has long been the most consistent member of the team. electronic's entrance to the fray has not changed that, even though the addition of a new voice and a new style can at times be difficult for players who have previously been playing well.
New chemistry issues can affect play, but wayLander has taken the addition of electronic in his stride, still producing consistent 20+ kill games day in and day out. Furthermore, wayLander and electronic as a combination now provide an incredible 1-2 punch in terms of fire power, giving FlipSid3 as a whole and specifically B1ad3 an incredibly solid team.
B1ad3 has always been seen as one of the brightest minds in all of Counter Strike. His incredible ability to design strategies against upcoming opponents has been praised for years, and it seems as though he has finally found the right combination of players. What electronic and wayLander provide is safety for players like streaky AWPer (or sniper) WorldEdit to make a risky play, understanding the rest of the team can play 4v5 if it ends poorly. With markeloff providing support as well, B1ad3 has a myriad of tools with which to work now.
Sky the limit for FlipSid3
This was something of a coming out for FlipSid3, who impressed observers with their complete map sweep. A solid Tier 2 team, FlipSid3 may well be one to watch as the combination of two Russians, two Ukrainians and a Finn will look to build on this triumph over the course of the coming months.