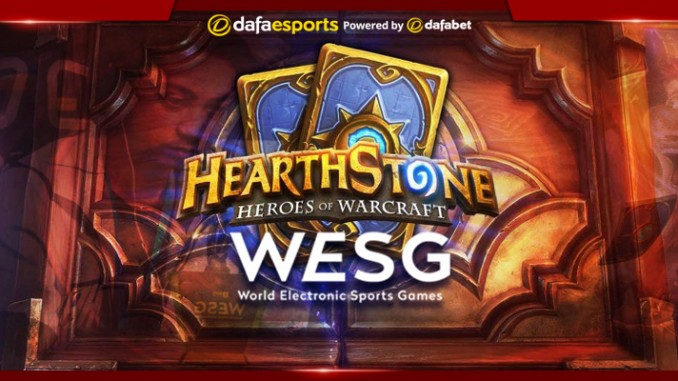 Philippines' Euneil "Staz" Javiñas pulled off a dramatic come-from-behind victory over Jon "Orange" Westberg of Denmark in the final of the Hearthstone tournament at the World Electronic Sports Games at Changzhou Olympic Sports Center.
PH Alliance's Staz was on the verge of losing the championship match after letting Alliance's Orange to go up 3-0, but the Filipino displayed more than enough poise to recover, beating the Dane in the last four matches to successfully pull the rug from under Orange's feet.
Staz, whose compiled winnings entering WESG 2016 was around $8,000, won $150,000 as champion, while Orange pocketed only $70,000.
German Raphael "BunnyHoppor" Peltzer of Virtus.Pro defeated his comptariot Sebastian "Xixo" Bentert of Counter Logic Gaming in the battle for third and will bring home $40,000.

NO PANIC
Staz, who barely qualified for the WESG final in Changzhou, lost his group stage opener 2-3 to Thailand's Mikka, before recomposing himself and winning three of the last four group stage matches to earn the top seed in his cluster.
In his rampage in the group stage, Staz defeated Singapore's losefield, Russia's Korvus and Canada's Talion. Aside from his loss to the Thai, Staz also lost 2-3 to Egypt's Lord.
Luckily for Staz, he beat all those he got tied with in the standings in the group stage, earning him a bye to the quarterfinal and an extra one-day rest.
STEP BY STEP
The rest prepared Staz for the even more grueling stage that came, and the results show the Filipino faced tougher challenges as he advanced to the final.
Staz defeated Denmark's Elliot "Fluffy" Karlsson 4-1 in the Last Eight, and outmaneuvered BunnyHoppor in the semis 4-2 to reach the championship series against Orange, who similarly dismantled Xixo in six games in their semis bracket.
In the final, many expected Orange to win as the Dane has had a good 2016, winning two big events in SeatStory Cup VI and ASUS ROG 10th Anniversary Hearthstone Tournament.
Orange outclassed Staz early in the final and became one win away from sweeping him, but the Filipino recovered and stole the show from the Dane.