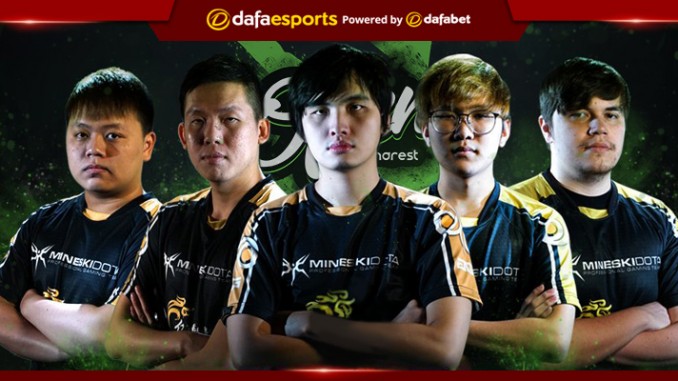 The Dota 2 Asia Championships took place in Shanghai last week and were classed as a Major in the Dota 2 Pro Circuit series. The tournament was significant as a team from Southeast Asia claimed a Major for the first time. Mineski were that team and had to overcome strong Chinese opposition in the face of LGD to earn $370,000 and add 750 DPC points to their tally. Both finalists were not counted among the favourites, which only added to the charm of the tournament.
A tricky Group Stage
Mineski's road to the Grand Finals began in Group B, where they won six of their seven best-of-one matches. They beat Evil Geniuses, Team Secret, Invictus Gaming, VGJ.Thunder, Effect and paiN Gaming, only losing to Virtus.pro.
As the second-best team in the group behind the Russians, Mineski were among the four teams to start in the Upper Bracket of the Playoffs. A dominant 2-0 victory against OpTic saw them advance to face Vici Gaming. This series was one of the longest they had to play in the tournament and it took significant resilience to edge out their opponents 2-1.
LGD stood in their way in the Winners' Bracket Finals, but a rather comfortable 2-0 victory saw Mineski qualify for the Grand Finals, pushing LGD into the Lower Bracket in the process.
Grand Finals to remember
LGD emerged from the Lower Bracket looking for revenge and so the Grand Finals started in quite a heated fashion.
LGD performed strongly in Game One where they dominated the laning stage rather unexpectedly with a late game line-up, while Mineski responded with their own show of strength in Game Two with a good ganking set-up, with Tiny rotations being the key to their success.
Game Three turned out to be a lot more evenly contested as both teams had a well-matched draft and neither could prevail in the early and mid game. However, LGD adapted much better in the late game, with Somnus' Kunkka being particularly impressive as he led his team to victory.
With their backs against the wall, Mineski had no room for error and yet Game Four started disastrously for them as Mushi's Luna was shut down early in the laning stage. Eventually Mineski started moving around as a team though, with ganking in the mid game enabling them to get back into the encounter and eventually win it.
With a decider on the way, LGD surprised Mineski with a bold out-of-the-meta Anti-Mage pick, counting on winning in the late game. Mineski's draft proved well suited, however, and despite the Anti-Mage getting enough farm, the SEA team managed to contain and kill the hero in almost every crucial encounter with well-executed combinations of spells.
History has been written
By winning here, Mineski became the first SEA team to win a Major, although this was really only a matter of time as a side featuring Mushi and iceiceice was always going to be a contender.
The two veterans were part of one of the strongest Dota 2 teams in the recent past – DK. Coupled with young talent such as Jabz (who iceiceice discovered and played alongside at Team Faceless last year), ninjaboogie and Moon (also known as Nana), the team had shown glimpses of their potential over the season before shining brightly in Shanghai.
The most recent change the team has made seems to have pushed them over the line as they added the famous Chinese coach Tang "71" Wenyi to their roster in January. Known for his rigorous methods and installing of discipline, his inclusion has elevated their game significantly.
In terms of play style, Mineski demonstrated various hero picks and tactics to achieve victory. The team forges their wins most often in the mid game where they tend to group up and move together as a unit, converting successful ganks into taking map objectives. The team also tries to get an advantage from the laning stage, but when shut down, ganking as a team around the map also serves as an effective comeback mechanic (e.g. Game Four versus LGD in the Grand Finals). While dominating in some games (e.g. versus OpTic Gaming), in others Mineski had to come from behind to win. Good adaptation and timing of rotations was key.
Team fight executions were something with which they particularly excelled and this was demonstrated by the Anti-Mage containment in the final game of the Grand Finals. Without having too many disablers and silences, the team managed to secure crucial kills on the otherwise elusive Anti-Mage thanks to the pinpoint chain execution of the skills.
The team benefits from having not one but two people who can be effectively deployed as playmakers and rotate to gank and/or create space – Jabz and iceiceice.
Jabz's constant movement is complemented by his wide hero pool. What set him apart from other players in his position was his support Nature's Prophet (later turning into a semi-core) which was both unconventional and effective.
iceiceice is a player of high individual skill who can play either in lane, roam or farm. In some of the games, he and Moon effectively swap the farming priorities (and lanes). Capable of winning the game on his own with his stellar performances, iceiceice above all demonstrated versatility and effectiveness no matter which hero he played.
The two main cores of the team, Mushi and Moon, are the usual suspects for the carry role. More often than not, Mushi is the top farming priority in the team. In such cases he is usually supported, while in others, he joins with the team in early game fights.
Moon bears the burden of carrying the game whenever Mushi cannot and he has improved significantly in the last few months by being more consistent and reliable.
Last but not least ninjaboogie demonstrated top level support play and his plays with Naga Siren and Disruptor gave the team the edge when it mattered most. Fans will certainly remember his pinpoint Glimpse with Disruptor, followed by Static Storm to catch the Anti-Mage in the last game of the Grand Finals.
In terms of heroes, Mineski prefer cores that do not need babysitting in lanes and who are good at pushing, such as Death Prophet (7 picks) and Dragon Knight (7 picks). Interestingly, the team never picked Terrorblade (the second most contested hero in the tournament with 89 picks and bans and a great pusher). Given that the hero needs solid overseeing in the laning stage, it becomes clear why he is not their favourite. A typical Mineski pick is Vengeful Spirit, who is a good ganker, initiator and excellent at providing saving mechanisms with his ultimate skill.
Final words
With this win Mineski are now fourth in the DPC rankings with 3,150 points. With four Majors and two Minors left, they are not far from securing a spot at The International 2018.  The team demonstrated they have what it takes to be at the top – team play, versatility, tactical acumen, pinpoint executions, and the ability to come from behind and win.
The first question that comes to mind when a new team makes it to the top is whether they can perform like this on a regular basis. Taken even further, do Mineski have what it takes to be a TI champion? The TI trophy has eluded both Mushi and iceiceice despite their rich experience and high skill level until now. It will be interesting to chart their progress in the coming months.