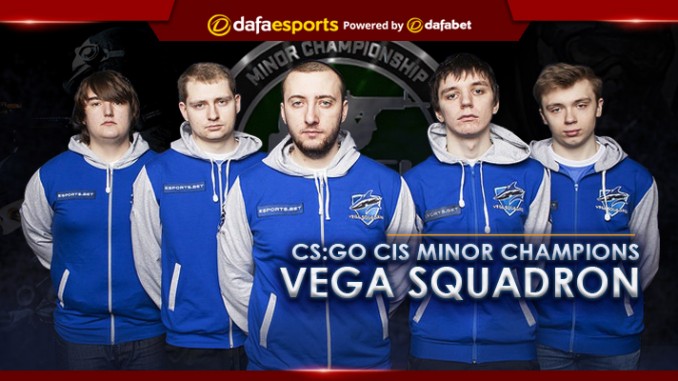 Eight teams met over the weekend at the Gamer Stadium in Moscow to battle for the CS:GO CIS Minor Championship 2017 title and a $30,000 first place prize. Vega Squadron fought tooth and nail to be crowned champions as they overcame Upper Bracket Finals disappointment to secure the crown over Tengri.
Vega Squadron strong in Group play
Paired with Tengri, Team Spirit Academy and Nemiga Gaming, Vega Squadron opened up play in Group A against Tengri, a team they were destined to meet multiple times throughout the tournament.
Vega Squadron struggled early on, securing a measly four rounds on their T-side on Mirage. After moving over to the CT-side, however, Vega Squadron found their groove as they limited Tengri to only three T rounds, enabling VS to secure a nail biting 16-14 win. mir for Vega Squadron and pachanga for Tengri had standout performances, both achieving 32 kills.
Vega Squadron then made quick work of Spirit Academy on Nuke 16-4 in their second Group A match, with AWPer (sniper) jR impressing with 21 kills on a notoriously difficult map for AWPers.
With the win Vega Squadron moved into the Playoffs as the number one seed from Group A, thus playing the number two seed from Group B; pro100. The Ukrainians had made it through to the semifinals along with Quantum Bellator Fire ahead of Spartak Esports and Team Spirit.
Pro100 no challenge in the semis
Vega Squadron put on an absolutely clinical display as they dominated in impressive fashion, blowing past pro100 with 16-5 and 16-4 victories on Cache and Nuke respectively. Once again mir found himself topping the scoreboard, boasting 22 kills on each map.
In the Upper Bracket Finals Vega Squadron faced off against a familiar foe in Tengri, who had dismissed QBF 2-0 in their semifinal. Once again Vega Squadron found themselves on the winning end of a close game, narrowly securing a 19-16 overtime win on Cache. From there, however, Vega Squadron faltered, losing their first map of the tournament as they fell 16-13 on Overpass.
With momentum completely on their side, Tengri overwhelmed Vega Squadron on Mirage to the tune of 16-5, primarily off the play of fitch. With 28 kills in just 21 rounds, fitch had one of the best showings of the whole tournament and this forced Vega Squadron into the Consolidation Finals, where they faced a rematch against their semifinal opponents, pro100.
Vega Squadron rally in Consolidation Finals
This time Vega Squadron faced a tougher fight from pro100 than earlier in the competition and needed double overtime in order to come away victorious from the first map (Cache) 22-19. pro100 then stunned VS on Mirage, winning the final three rounds to eke out a 16-14 win.

With their backs against the wall, Vega Squadron struggled to find early success on the third map (Nuke), securing only five T-side rounds. However, the second half was an absolute romp, with Vega Squadron only dropping 1 round out of 12 on their way to a 16-11 triumph. This saw VS qualify for the Grand Finals and a third match-up of the tournament against Tengri. The duo of jR and mir came through on Nuke, with jR sporting a top rating of 1.27 for the map and mir leading the way with 22 kills.
Rivals meet once more
In the Grand Finals both teams looked to switch up their map pick and ban, with Train, Inferno and Overpass being selected.
Vega Squadron came out firing, grabbing a 10-5 half-time lead on Train. They furthered their dominance in the second half, increasing their advantage to 15-5, which put them at map point. After dropping the next three rounds Vega Squadron secured the round they needed, which gave them a 16-8 win and with it a 1-0 map lead. At the top of the charts for VS was hutji with 25 kills, closely followed by the most consistent player of the tournament, mir, with 23.
The match on Inferno was incredibly back and forth, with both teams able to string winning runs together. After Tengri had picked up the opening three rounds, Vega Squadron responded with six of their own before Tengri went on a run to end the half, winning the final six rounds to take a 9-6 half-time lead.
However, Vega Squadron were not to be denied as they bounced back by winning the first five rounds on their T-side. After the two sides had split the next four rounds, Vega Squadron then put Tengri away by winning three rounds in a row to secure the match and with it the championship.
Overall, the key to Vega Squadron's success was mir as he consistently put up high kill numbers no matter the map or opponent. Both Vega Squadron and Tengri qualified for the PGL Major Krakow 2017 Qualifier from this tournament, but if Vega Squadron are to advance through this, players other than mir will need to show greater consistency on a map-by-map basis.