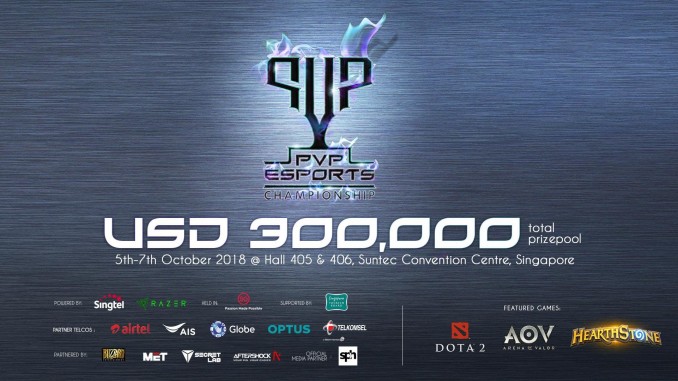 More than a month after The International 2018, it's time to head to Singapore for the first LAN tournament of the 2018/19 season.
While there are no Dota Pro Circuit points available, the nine teams will be competing for their share of a US$300,000 prize pool from October 5-7.
KSY (Australia), Team Admiral (Phillipines), Resurgence (Singapore), Hashtag?.DOTA (Thailand) and Signify (India) have all qualified. Joining them are the winners of the Indonesia Games 2018, BOOM ID, along with three invites – PSG.LGD, Team Secret and Fnatic.
All nine teams will be placed into a single group, playing best-of-one matches against each other in a round robin. The top four teams advance to the play-offs, with the rest eliminated. The play-offs are single elimination, with the semi-finals being best-of-three, and the finals best-of-five.
As the season-opener, it will be good to see how teams have improved and adapted over the past month, while also noting if there are any new contenders rising up to challenge the giants.
Let's take a look at the contenders…
Unsurprisingly, the three invited teams are the bookmakers' favourites. They have the better-known players and have already qualified for the Kuala Lumpur Major in November.
PSG.LGD – 2.100 second favourites with Dafabet – may have the edge, as they placed 2nd at TI8, and have not made any roster changes. If Chalice and Maybe show similar performance levels, they should have no issue claiming the title.
Team Secret replaced Ace and FATA with Nisha and zai, hoping to shore up their weaknesses in the Carry and Off-lane positions. Dafabet see that as a strong move and have them marginal favourites for the title at 1.917. However, to see success here, they will need to rely on Puppey leading them through the draft and the game, and to quickly build themselves into a cohesive, well-meshed team.
Fnatic – 8.200 third favourites – underwent more sweeping changes, with EternaLEnVy, UNiVeRsE and pieliedie being replaced by MP, iceiceice and Jabz. They went out early in TI8, so a full rebuild may prove to be a successful option, especially with the star power of MP, and the ingenuity and aggressive play that iceiceice is known for.
While the invited trio are the favourites, this early into a season upsets are more common than usual, as players and teams try new things.
BOOM ID (51.000) are contenders as they have the benefit of a long time playing together, plus some recent success – they beat Mineski to make it into the DreamLeague Season 10 SEA Qualifier.
While the rest of the Asia-Pacific teams are more recently formed, they play in a region that is well known for taking more risks and playing styles that opponents may not be used to. This applies particularly to Resurgence and Team Admiral from Singapore and the Philippines respectively, and could give them an edge when playing against the more structured styles of the well-known teams.