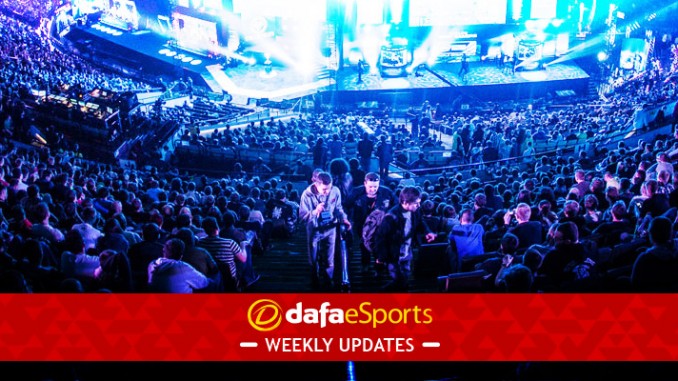 Los Angeles Gladiators will be looking to continue their perfect start to Stage Two of the 2019 Overwatch League season when week two gets under way on Thursday.
This week they go up against Guangzhou Charge and city rivals Los Angeles Valiant.
Gladiators quick off the mark
The Gladiators were a team expected to rebound after Stage One. They had a difficult schedule and ended up finding their form in the latter half of the split.
With a stacked roster, especially in terms of versatile players, the Gladiators have the ability to bring out multiple looks to keep their opponents guessing, particularly given BigGoose's ability to play hitscan heroes and perform well on the latest hero, Baptiste.
Last week the Gladiators took down not only Seoul Dynasty but also Shanghai Dragons and have now created some momentum heading into a week which offers a lighter schedule.
The Charge have yet to win this stage, while the Valiant remain winless in the entire year, despite swapping back to Custa.
Crucial week for Fusion
Philadelphia Fusion have a massive week, one which could have a big impact on their play-off hopes, even at this early stage. They face two difficult opponents in Toronto Defiant and London Spitfire but have been installed as slight favourites at 1.813 to beat the Defiant (2.020).
The Fusion are coming off a fairly predictable week, being swept away by New York Excelsior before taking down Florida Mayhem to find themselves sitting at 1-1.
Continuing to be headlined by their star DPS duo of Carpe and Eqo, Philadelphia are the type of team that can beat anyone on their day given the heights not only this pairing, but the team as a whole, have hit before.
However, this week is rough with the team facing off against a feisty Stage One play-off team (Toronto) as well as the inaugural season winners (London).
Hunters target Dragons
After an exhilarating 2-0 week, Chengdu Hunters have a reasonable chance of adding a third victory when they take on Shanghai Dragons.
Chengdu brought out a myriad of whacky and unorthodox strategies in week one, with their antics propelling them to victories over both Paris Eternal and Washington Justice. However, this also means there are multiple reasons Chengdu could take a step back this week, with the combination of a more difficult opponent coupled with Shanghai now being able to scout the previously-unseen strategies of the Hunters.
Chengdu could look to continue to reach into their bag of tricks and catch the Dragons off guard, although whether that would be effective is open to question.
Important week for Atlanta
Week two is a golden opportunity for Atlanta Reign to get some wins under their belt as they go up against two of the worst teams in the league – Los Angeles Valiant and Washington Justice.
With multiple additions before the start of the year, including babybay coming over from San Francisco, it was unsure how long it would take for the Reign to function as a unit.
While they did get swept by London, Atlanta put up an incredible fight against Boston before falling 3-2. Clearly this team need more time to gel given the multiple instances of their timing and communication being off, but another week of practice ahead of a light schedule is a dream scenario.
Despite being only week two, this feels like a do-or-die week for Atlanta's hopes of making a second straight play-off series. With only five weeks in a stage, a quick start is important.
Dallas Fuel and Houston Outlaws play their first games of the stage and by the end of the week the stage favourites should have become clear.