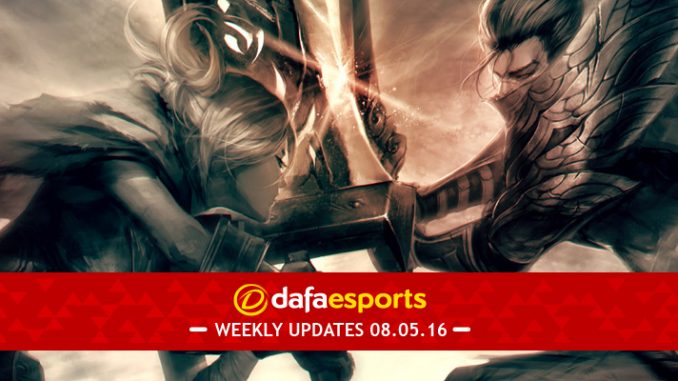 Esports Weekly News – Stories you may have missed!
ELEAGUE, the professional eSports organization formed in partnership between Turner and WME | IMG, culminated its first season with Virtus.pro winning its inaugural championship.
Sources report former fantasy site Vulcan have been concealing their ownership of CSGOJackpot.
Panda Global will be launching a new in-house competitive ladder next month for Heroes of the Storm players.
After some questionable Twitter banter, Shaquille O'Neal and his NRG eSports org have officially picked up Luminosity's former Overwatch team.
ELEAGUE's First Season Delivers Strong Audience Consumption Across All Platforms
Throughout its debut season, ELEAGUE consistently delivered strong audience consumption across all platforms including 897 million gross minutes of video consumption on TBS and Twitch.  ELEAGUE also attracted more than 3.4 million new viewers to TBS during its 10-week season. With the audience composition consisting heavily of Millennial viewers falling in the coveted Men 18-34 demographic.
Yesterday's ELEAGUE Championship coverage generated approximately 48 million gross minutes of video consumption across TBS and Twitch.  The championship netted a season one record with a peak of 168,500 concurrent streams on Twitch and an average of 103,000. Saturday's championship also garnered 2.9 million social impressions across Facebook and Twitter.
Read the full story here
Vulcun lied about CS:GO Jackpot ownership
To be clear, ties between Vulcun and CS:GO Jackpot definitely exist. Last July, Vulcun announced a "strategic partnership" with CS:GO Jackpot as part of a larger business move away from paid fantasy games.
Just two months later in September, the founders of CS:GO Jackpot, including "chrisMartinPT," were out.
Ownership of CS:GO Jackpot, after that moment, remains to this day unclear. Our sources, however, are adamant that Vulcun took over the operation of CS:GO Jackpot from that point forward.
It's also worth noting that in January, when Vulcun shut down paid fantasy for good, the company underlined a move towards "making Vulcun the premier place to win in-game virtual items." With this in mind, continuing to operate CS:GO Jackpot from the shadows seems a definite possibility. Only one thing is certain—CS:GO Jackpot, unlike many skin gambling sites, remains up and running today.
Read the full story here
Panda Global announces Heroes of the Storm pick-up league
Dubbed the "Panda Pro Ladder," the new pick-up league will invite every player that competed offline during both the Summer and Fall circuit as well as all 500 players currently ranked Grandmaster.
At the end of six weeks, the top point earners based on the client side matchmaking rating will win peripherals and gear from PG sponsors.
PPL games will be featured weekly on PG's twitch channel and will act as an open opportunity for amateur casters to step up and hone their craft.
"We've been planning this project for a while and it's finally shaping up," said David Wu, founder of Panda Global. "We hope this will bridge the gap between amateur players and the professional scene, helping new teams and players find a place, and pushing the NA meta further."
Read the full story here
Riot can learn from Blizzard about balancing game around professional play
The year wouldn't be complete in League of Legends without Riot Games trying to dissuade professional teams from lane swapping. Ever since Season 4, Riot has taken to the task with no success. Despite unintuitive decisions to vary the strength of towers and reduce the information available in the early game through vision and time changes, lane swaps have remained a staple of competitive League of Legends. Is that a problem? If you ask Riot, apparently so. If you ask analysts and pros, the answer is usually, "no."
To briefly summarize the arguments, Riot stated its goal isn't to eliminate lane swaps. But to make it less of a programmed trade off. Citing the "non-interactive early game" it creates, Riot's goals are to promote more conflict at the start of games. Some could interpret the lack of conflict in the early game as "boring." Others might find a cerebral pleasure in lane swaps and dissect a team's decisions in them. Admittedly, the latter is something that tends to be achieved only by the most ardent followers of the game.
Read the full story here
Shaq and NRG eSports sign Overwatch squad
What Shaq wants, Shaq gets.
After some questionable Twitter banter, Shaquille O'Neal and his NRG eSports org have officially picked up Luminosity's former Overwatch team.
NRG will be spearheaded by Brandon "Seagull" Larned, currently the world's most popular Overwatch streamer. Last week, Seagull and friends were released from Luminosity Gaming as their current contracts expired.
"We're very excited to have the opportunity to play for NRG," Seagull said in an interview with ESPN. "After receiving offers from many different organizations, we felt that NRG was the best fit for us in order to build a long term relationship in Overwatch. We can't wait to see how the competitive scene develops in Overwatch and we know we'll have all the support we need under NRG."
Read the full story here
The Future Of Esports On Television
We have already seen League of Legends being broadcasted on television in the past with the Big Ten Network teaming up with Riot Games for the Collegiate Esports match between Ohio State University and Michigan State University back in the middle of April.In Korea, esports has it's own television networks. Now that it has reached the masses here in North America, should we not be following in their footsteps?
What is stopping Riot Games from working on securing a deal with a network willing to broadcast esports on a regular basis? Or better yet, having their own television network? I for one would love to wake up in the morning and watch League of Legends highlights and analysis on the screen in my kitchen while I am having my breakfast. Heck, they could even begin to run a League of Legends animated television show based on their lore and start putting that to better use. I mean, have you seen those cinematics?
Read the full story here