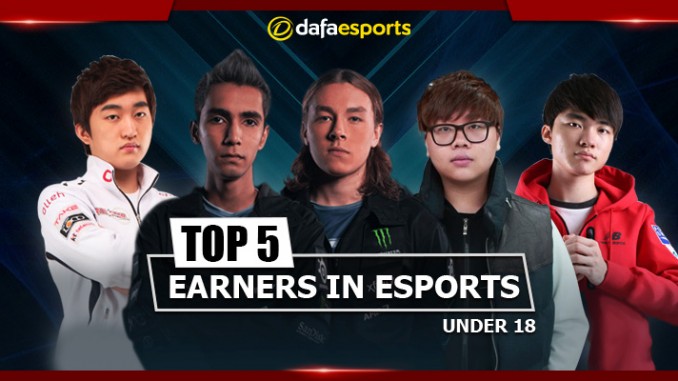 eSports is a field for the young, with some prodigies even taking the scene by storm before their 16th birthdays. Talent usually shines early and most top players are younger than 25. Here are the top five earners that became famous and successful in the world of eSports.
Sumail "SumaiL" Hassan (17 years old) – $2,310,447.74 from 23 Dota 2 tournaments

SumaiL is undoubtedly one of the most famous and talented Dota 2 players, so much so that the Pakistani was recently included in Time magazine's list of "The 30 most influential teens of 2016".
SumaiL's path to becoming a pro gamer began at the age of eight when he started playing Dota. His story of selling his bicycle so he could afford to play at the local internet café is well-known to Dota fans.
It is in Dota 2 where he has truly shone though. His signing by EG in January 2015 proved to be a successful move for both him and the team. Although his first professional game was a disaster, under the guidance of experienced players such as Fear, he developed his play in a short period of time and in the same year the team became TI 5 champions. SumaiL has made a name for himself as a highly skilled playmaking mid player with the ability to win games for his team even when at a disadvantage.
He is still playing for EG and became the youngest person to earn $1,000,000 from competitive gaming with the TI 5 win.
Ludwig "zai" Wåhlberg (19 years old) – $465,923.32 before turning 18 (Dota 2 and Heroes of Newerth)
Zai is a versatile player who first made his name in Heroes of Newerth, becoming one of the best players of the game by the age of 14.
After humble winnings, he switched to Dota 2 in 2013. It didn't take him long to get a grasp of the game and several months after the transition, he found himself in the roster of EG, one of the top Dota 2 teams. He helped them claim 3rd place at The International 2014.
Zai became part of Team Secret's star line-up in 2015. He helped them win four tournaments, but the team underperformed at The International with a 7-8th place finish.
Zai then spent almost a year out of Dota which he used to finish high school, and after a short stint with Kaipi in May/June this year, he became part of EG again, with whom he achieved another 3rd spot at The International 2016.
Lee "Flash" Young Ho (24 years old) – $269,972.27 before turning 18 (StarCraft: Brood War)
Flash is one of the very first eSports legends and widely considered the best StarCraft: Brood War player of all-time. The wonder kid arrived on the pro scene in 2007 at the age of 14. He played for Pantech EX and started to amass wins right off the bat against established names such as BoxeR, Bisu and sAviOr.
At 15, he became the youngest Starleague champion and started breaking record after record. He is the longest reigning #1 player in the KeSPA ranking system since BoxeR and NaDa, and is the all-time record holder of the highest number of points in the ranking system with 4,292.5. Flash has also featured in six consecutive MSL and OSL finals.
His transition to StarCraft II in 2012 was not as impressive, however, and he retired from competitive gaming in December 2015.
Lee "Faker" Sang Hyeok (20 years old) – $255,575.35 before turning 18 (League of Legends)
When it comes to the best mid laners in League of Legends, Faker is the first name that comes to mind.
His pro career started in 2013 when he was picked by SK Telecom T1 at the age of 16. He has not played for any other teams despite rumours he has been offered a large amount of money from Chinese outfits to switch.
Rarely does a name bring so many into consensus when speaking about "the best player" title. Fans and analysts alike often bow to his god-like plays on heroes such as Gragas, LeBlanc, Riven, Zed, Ahri and Orianna.
Faker and his teammate Bengi are the only ones to have won the League of Legends World Championship twice, a significant achievement from one of the world's best.
Heo "PawN" Won-seok (19 years old) – $225,752.74 before turning 18 (League of Legends)
PawN is another League of Legends player and completes this top five list. He started playing competitively at the age of 16 in the small team MiG Blitz and spent several months with them with little success.
He started to make a name for himself playing for Samsung Galaxy Blue, helping them to finish 2nd in the 2013 WCG Korea Qualifiers and 3rd at ZOTAC NLB Winter 2013-2014. The following season saw him move to the other Samsung Galaxy team, White, with which he won the League of Legends World Championship.
Despite the success, PawN moved away from the team and joined Edward Gaming soon after. This season he has been plagued by injury and has not played many games.
The growing eSports industry gives an incredible opportunity to make a buck at an early age. It is often a long hard path, but the commitment can pay off if you have the skill and dedication required. Due to the uncertainty of making it in professional eSports, the earlier you start the better, particularly as this is the time when you can take most advantage of your fast reflexes and hand-eye co-ordination. As a consequence, these earnings could be broken by new rising stars in the future.