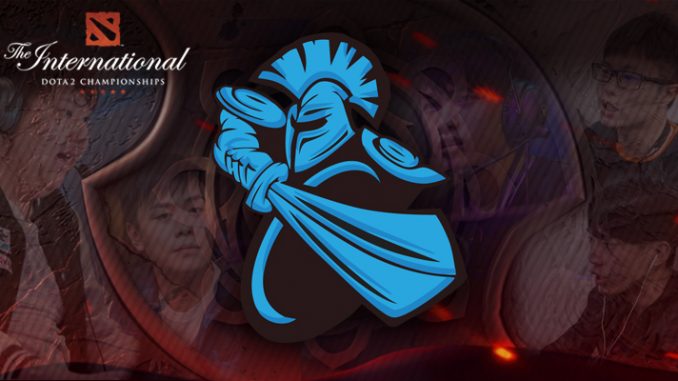 TI 6 Team Preview: Newbee
Newbee are a Chinese team that were formed in February 2014 and tasted almost instant success by winning The International five months later. The following year was not nearly as profitable as they failed to win any tournaments, international or domestic. This included an incredibly disappointing bottom four finish at TI 5 in defence of their title.
Zhang "Mu" Pan is the only player who remains from the TI 4 winning squad. The current line-up is a mix of experience (Chen "Hao" Zhihao, Zhang "Mu" Pan and Wong Hock "ChuaN" Chuan) and fresh signings added this March – Hu "Kaka" Liangzhi and Damien "kpii" Chok. The signing of the latter two has made the difference and the team have recently performed well on the international scene as well as winning some domestic tournaments.
Roster:
Chen "Hao" Zhihao – position 1
Zhang "Mu" Pan – position 2
Damien "kpii" Chok – position 3
Wong Hock "ChuaN" Chuan – position 4/5
Hu "Kaka" Liangzhi (c) – position 4/5
2016 notable achievements:
Nanyang Dota 2 Championships Season 2 – 1st
Dota2 Professional League Season 1 – 2nd
EPICENTER – 2nd
The Manila Major – 3rd
Current form:
May – 78.6% win rate (11 wins, 1 draw, 2 losses)
Top 4 most picked heroes (this month):
| | | |
| --- | --- | --- |
| Hero | Picks | Win % |
| Faceless Void | 10 | 60.00% |
| Dazzle | 10 | 90.00% |
| Drow Ranger | 9 | 100.00% |
| Terrorblade | 7 | 57.14% |
Top 4 most banned heroes (this month):
| | | |
| --- | --- | --- |
| Hero | Bans | Win % |
| Drow Ranger | 14 | 57.14% |
| Elder Titan | 10 | 100.00% |
| Lifestealer | 9 | 100.00% |
| Alchemist | 9 |  77.78% |
Newbee are one of the most early-game aggressive Chinese teams and play contrary to the Chinese playstyle, which is traditionally more conservative. Taking down early towers and aggressive tri-lanes with solo Hao in the safe lane is quite typical for them.
Newbee have a strong player in each position. Despite the fact that he has less experience than some of his more renowned teammates, drafter and captain Kaka manages his responsibilities well. Most recently, he has drafted heroes who are popular in the current patch, but he has also chosen some which chime with Newbee's preferences. Newbee are one of the heaviest users of the recently popularized Terrorblade, who is reliable both in the early and late game. He is often combined with Dazzle and Shadow Demon, who synchronize very well with him. Drow Ranger is another hero who not only suits the early pushing playstyle, but has proven quite effective, with a 100% win rate in the last nine games. He is played by Hao.
Long-standing Mu has a wide hero pool and a playstyle that favours risky but calculated plays, while ChuaN has a huge impact when playing an aggressive Support (such as Shadow Demon and Disruptor recently) or a Jungler in the form of Enchantress or Chen.
Coming as invitees, Newbee are probably the strongest Chinese team at TI 6 and one of the favourites to win the tournament.
Newbee have won several domestic tournaments of late, but their efforts on the international stage have been thwarted on a couple of occasions, namely by Team Liquid at EPICENTER in Moscow and by Liquid and OG in Manila. They did win the Nanyang Dota 2 Championships Season 2 though and having players such as Mu and ChuaN in the squad who have already won The International, TI 6 is certainly a mission possible for them.