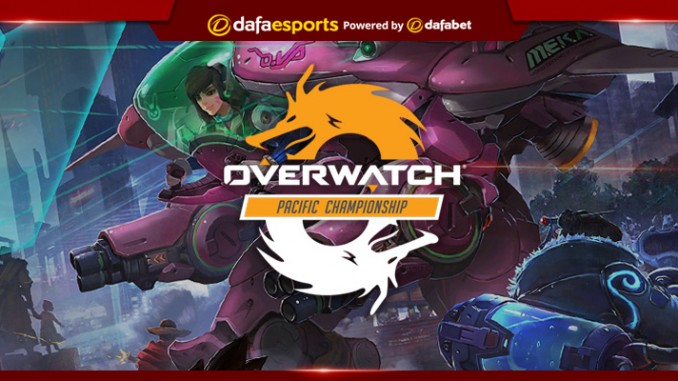 The Blizzard Estadium in Taipei, Taiwan, has been the venue for the Overwatch Pacific Championship 2017 Season 1 as teams from Taiwan, Hong Kong, Thailand, Japan and Australia battle it out for an approximate first place prize of $100,000.
Flash Wolves look the class of the tournament
With most of the Regular Season of the Overwatch Pacific Championship having been played, Taiwanese team Flash Wolves find themselves in 1st place with an overall record of 22-3. Blank Esports from Australia sit just behind in 2nd place (20-6), with a second Taiwanese team, ahq e-Sports Club, one game behind them in 3rd on 19-7.
Flash Wolves have particularly impressed of late, with 3-0 victories over top five outfits Blank Esports, ahq e-Sports Club and Machi Esports (aka M17) in Week 9.
In the victory over Blank Esports, Flash Wolves displayed their impeccable team coordination and understanding of the game. This was particularly the case in the opening battle between the top dogs on Oasis, a king of the hill map (aka control map) with three sub-maps (University, City Center and Gardens) in which each team fights to obtain 100 percentage points on a neutral objective (with the first to three map victories winning).
Triple DPS strategy used
Starting on University, Flash Wolves implemented a triple DPS (damage per second) team composition, sacrificing a stereotypical healing position (the standard is two tanks, healers and DPS for a balanced team composition). To compensate for the loss of healing, Flash Wolves player S1nkler played Sombra, a DPS hero with the ability to hack health packs.
Flash Wolves' strategy worked initially, but Blank adapted by replacing Soldier 76 with Pharah, and Flash Wolves never regained momentum as they conceded University.
The second sub-map within Oasis was City Center, where each side ran the same team composition (Lucio, Zenyatta, Winston, D.Va, Tracer and Soldier 76). Blank Esports opened up a 99-0 lead before Flash Wolves could recover the point (the neutral objective) off the back of Baconjack's Tracer play. Baconjack secured two kills (on Soldier and Winston) to free up the point, and Blank never recovered as they continued to be picked off in uncoordinated fights, ultimately giving Flash Wolves a 100-99 win.
Blank make selection error
Heading next into Gardens, again the teams ran the exact same composition, with Flash Wolves once more coming out on top due to Baconjack's excellence as he picked up four kills in rapid succession to get the victory.

In a return to University and with Flash Wolves on map point, Blank made the error of playing the same composition for the fourth time in a row. This enabled Flash Wolves to run over Blank Esports comprehensively, not giving up a single percentage point while avenging their earlier defeat.
Flash Wolves then followed up their victory on Oasis with wins on Numbani and Hanamura, giving them a convincing 3-0 series win over the 2nd best team in the competition.
Flash Wolves are the team to beat
With only one week to go in the Regular Season, Flash Wolves are the favourites to win the tournament outright, particularly given their current form. Being able to fight the 2nd place team with largely the exact same heroes and still dominate shows the mechanical ability the Flash Wolves possess.
All is not lost for Blank Esports though and look for them to try multiple strategies to keep Flash Wolves off balance should they meet in the Playoffs.
Some strategies that could be used were played by Blank against ahq e-Sports Club. These include Widowmaker (on Ilios) and triple DPS on Volskaya Industries, both in Week 9 in a match that Blank won 3-0. The Widowmaker excelled due to her ability to pick off isolated targets from a distance and while the triple DPS tactic was not as successful, it showed the diverse thinking that could assist Blank.
Turning to ahq, they have clinched the 3rd and final Playoff spot, but little is expected of them given their recent struggles in the competition. ahq have secured just one victory over a fifth place or higher team in the last few weeks, raising many doubts about their abilities come Playoff time.
In stark contrast to Flash Wolves and Blank Esports is the pair of Japanese squads; 7th place DeToNator.GOLD (3-22) and 8th place SunSister (0-25), who have struggled badly in this competition.
Of the rest, one side on the rise is Hong Kong Attitude, who have shown signs of life in recent weeks. While the Playoffs are now out of the question, HKA look to be in prime position to contend for a berth in the next season of the Overwatch Pacific Championship.
The teams now play out the final week of the Regular Season, with Flash Wolves, Blank Esports and ahq e-Sports Club all already through to the Playoffs. Then 2nd will play 3rd, with the winner moving on to take on the top seed for the OPC Season 1 crown.