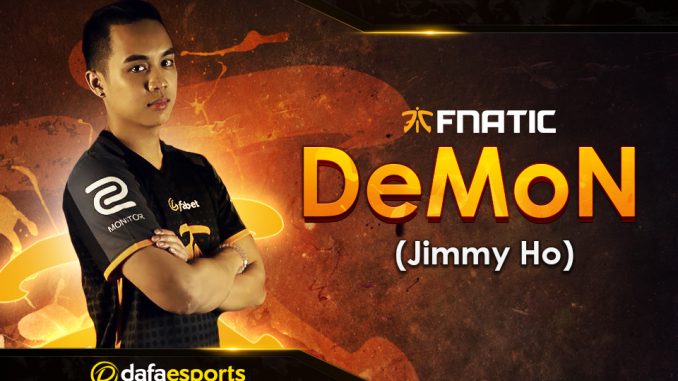 Fnatic saw some major changes during the off season as DJ, 343 and MidOne left the team to pursue their own path. Luckily for Fnatic the team found three new players to take their spot. One of those players is Jimmy Ho, also known as Fnatic DeMoN. He's a North American player who's been a part of the Dota scene for a while now and brings a wide range of experience to the team. We sat down with him for an interview and asked him what it's like to be a part of the Fnatic family after leaving his former team, TNC.
Hi DeMoN, first of all welcome to Fnatic! You've been part of the DotA scene for a while now, you've even participated in the very first The International. How have you seen the scene evolve over the years?
It's invigorating to see how professional the Dota2 scene is, seeing how lucrative it can be for the players. Back then, it was in hopes of winning tournaments to see any sort of revenue. Outside of TI, nothing was profitable considering there were very minimal tournaments then compared to now. In fact, at times there's an oversaturation in the amount of tournaments. Seeing this year, I think it's calmed down quite a bit, giving some room for teams to take breaks without being completely burnt out.
It's not the first time you're playing for Fnatic. Knowledgeable fans might remember you being a part of the team during Dota 2 League, season 4 back in 2014 as a standin. What do you remember from your time on the team back then?
Well, the team was very lively due to n0tail being the life of the party. It was a very short stint, but the guys were all fairly close friends of mine as we became familiarized due to lots of past tournaments.
Did it influence your decision to join the current Fnatic line-up?
Not at all, the current Fnatic is completely different compared to who I played with, both management wise and player wise.
The new Fnatic comp is a mix of the remaining Fnatic members and you, Raven and eyyou from TNC. Have the five of you been able to adapt to playing with new teammates?
There's a distinct language barrier between Malay, Tagalog and myself. This causes some conflict but it's all a work in progress as we all strive to be nothing less than the best we can be.
The team recently played in MPGL Southeast Asian Championship where you finished 4th. How do you look back on the tournament?
It was great practice and a learning experience for all of us.
Are there any key gameplay elements you and the team want to work on improving before the Fall Major?
Essentially, it's all about communication, teamwork and our own personal individual skill.
Speaking of the Fall Major, what is the team's goal?
It's hard to predict with our new line-up and the changes to other teams but we all want to be the best we can be and show that in our result at the Fall Major.
Your best placement at a TI was 4th, Fnatic's best placement is 4th after this year's performance. Are you ready to compete for number 1?
Winning The International is everyone's dream and we will do nothing but give it our best in the coming year so we can reach that first place finish.
Thank you Jimmy! We wish you all the best in the upcoming season!
If you learned something new about DeMoN and enjoyed this interview you can follow us on Facebook and Twitter for more cool content about Fnatic and their players. As the main team sponsor we promise to bring you as many insight knowledge as we can!