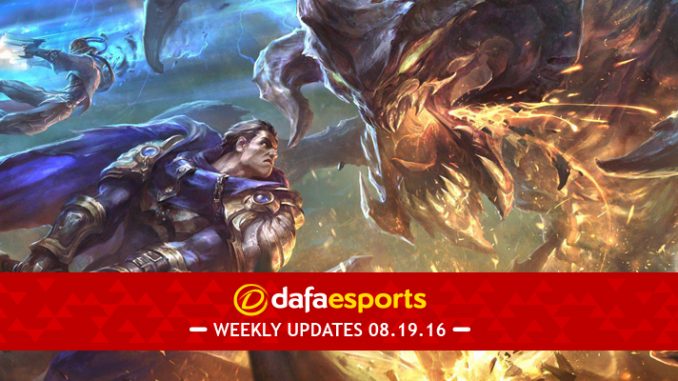 Esports Weekly News – Stories you may have missed
– Wings Gaming are The International 2016 champions, following a 3-1 victory over Digital Chaos in the Grand Finals.
– [Video]  Last May, Yahoo Esports followed Counter Logic Gaming throughout their run at MSI 2016.
– DreamHack Montreal concluded this past weekend and will return again in 2017.
– Fnatic x Godsent: A major roster shuffle rocked Swedish Counter-Strike Monday morning.
FNATIC – GODSENT: A BROKEN EMPIRE
The core of Fnatic is gone, leaving just Olof "olofmeister" Kajbjer Gustafsson and Dennis "dennis" Edman. The famous olofmeister and Freddy "KRiMZ" Johansson duo is gone. Fnatic beat G2 and Gambit at the Major, losing to the runner-up of the tournament. Fnatic also lost to Virtus.Pro in the finals of ELEAGUE just two weeks ago. What is going on here?
Why did the roster change happen and in this way?
This roster change is quite perplexing, especially when discussing the break-up of the famous olof-KRiMZ duo and the LGB core, which was reunited a year ago. LGB, for those who don't know, was the second/third best Swedish team. Key members of this team were olofmeister, dennis, KRiMZ and Simon "twist" Eliasson. Right along with them was Epsilon (later acquired by Fnatic), which contained players such as Jesper "JW" Wecksell, Robin "flusha" Ronnquist and Markus "pronax" Wallsten.
The reason why the breakup of the LGB core within Fnatic is so strange is that Olof and KRiMZ worked so well together. When thinking of other great duos, the pairing of Filip "NEO" Kubski and Wiktor "TaZ" Wojtas comes to mind. NEO and TaZ, like KRiMZ and olof, have broken records with each other. Both are good players when not playing together, but when united, we start using words like best player ever to describe olofmeister and NEO.
Read the full story here
Counter Logic Gaming: Overcoming Legacy
Wings Gaming win The International 2016
Wings Gaming are The International 2016 champions, following a 3-1 victory over Digital Chaos in the Grand Finals. They head home from Seattle with just over $9.1 million.
Though the road to the Grand Finals is a long one, Wings took the shortest path possible, cutting through the Upper Bracket with a 9-2 game record and barely breaking a sweat. They came into Day 1 one of the event bold and unpredictable as ever, pulling out crazy drafts that left the desk analysts scratching their heads. "There is no meta," Chan "WinteR" Litt Binn said ahead of Wings' draft in Game 3 of the Grand Finals.
Wings formed their current roster just after TI5, and kept it stable through the next season, despite a massive shakeup in the Chinese Dota scene after The Shanghai Major. Their breakout win on the international stage was a surprise 3-0 victory over Team Liquid at ESL One Manila 2016, but since then their results have been as erratic as their drafts — they finished last at The Manila Major, but second at the Nanyang Championships and first at The Summit 5.
Read the full story here
DreamHack confirms a return to Montreal, other Canadian events
In an email sent to those who purchased a founder's pass, DreamHack confirmed the existence of next year's installment with the promise of a free VIP ticket and goes on to explain a discount on all future events in Canada. Many people speculated where DreamHack's first event in Canada would be when it first announced its foray to the North. Vancouver and Toronto were hotly debated as potential sites for a DreamHack event this time and will again be cities that expect to garner attention.
Montreal is no stranger to large LAN parties, as it has played host to LAN ETS, which received its name from the place it originated (l'École de technologie supérieure) for over a decade. DreamHack Montreal saw thousands of gamers flock to Place Bonaventure this past weekend.
Read the full story here
Top 10 Watched Games Based on eSports Hours Watched on Twitch in July 2016