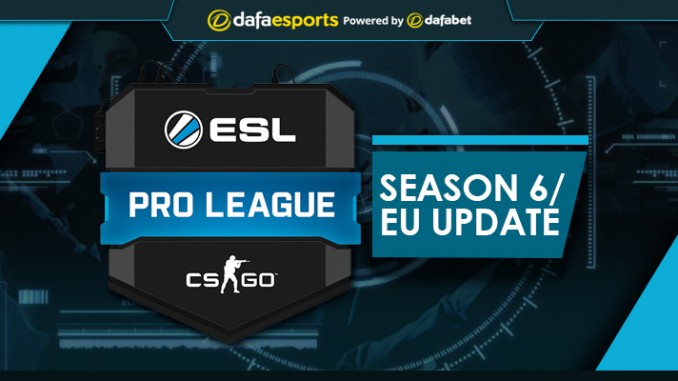 Esports News: The ESL Pro League Season 6 is rapidly heading towards the finals, which will be held at the Sparekassen Fyn Arena in Odense, Denmark starting in early December. In a surprising turn of events, Fnatic finished atop of the regular season for the sixth instalment of the ESL Pro League Europe to lead the qualifiers from that region.
Golden the Difference for Fnatic
Fnatic have continued to perform during online matches, building around the new system put in place by in-game leader Golden. While Fnatic have yet to show any form of consistency offline, the ability to pull off an 18-8 record against quality opponents is promising sign. Although expectations are not sky high entering the playoffs, Fnatic are a team to keep an eye on in the coming months.
Finishing in second through fourth were North, FaZe Clan, and Astralis, the favourites for the playoffs. North have continued to see progress ever since the addition of valde to the roster in place of Magisk. Always known for a tactically deep map pool, typically playing six maps consistently – something few, if any, other teams do – North have found themselves playing around superstar player k0nfig more and more as time goes on. With the ability to both be a rifler and AWPer, k0nfig is a dynamic player that MSL, their in-game leader, can utilise in a myriad of ways. If North are to continue their rise, k0nfig will be at the forefront.
FaZe Clan Qualify Comfortably
FaZe Clan have always been a lacklustre team online, while being incredibly dominant offline. With such a star-studded roster, it's of little surprise that FaZe Clan take it easy at times, knowing full well they will make playoffs and thusly hiding strategies along the way. FaZe Clan have arguably the most amount of talent ever combined on one roster, with any single player able to carry the team when called upon.
This is what makes FaZe so consistent offline, as no one player struggling ends in disaster. While not a major concern, FaZe losing both games to Fnatic back in week 7 could be interesting, given the high chance of the two sides squaring off in the playoffs.
Astralis are arguably the most balanced team in the world at the moment, with star players complementing the brilliance of in-game leader gla1ve. With FaZe and SK dominating the scene as of late, Astralis have taken a bit of backseat, not claiming first place in an event since back in March of this year. Even with a string of second to fourth-place finishes, Astralis are the model of consistency in terms of deep playoff runs.
Astralis did have a disappointing end to the Pro League regular season, dropping games to Mousesports, EnVyUs and HellRaisers in the final weeks; a concerning sign moving forward.
Surprising Qualification Failures
G2 Esports and Natus Vincere are the disappointing teams of Season 6, both failing to qualify for playoffs after lofty expectations. Touted as the French Super team, G2 Esports are a model of inconsistency, playing to the level of their competition and continually dropping games against lower-tiered opponents. G2 failed to qualify by one game, with a 14-16 loss to last place BIG back in week 6 being an obvious poor performance.
While G2 narrowly missed out on playoffs, Natus Vincere find themselves in relegation due to a shocking 12th-place finish (10-16). Zeus' re-addition to the roster, after he won a Major with Gambit, was supposed to bring about a golden age for Na`vi, yet all Natus Vincere have achieved since is mediocrity. Every member outside of s1mple has struggled, leading to the removal of Seized in the recent weeks.
The future does look bright for Na`vi, however, as they were able to acquire superstar electronic from FlipSid3, giving them an incredible addition to the roster. Some are skeptical given Na`vi's complete collapse under the hype previously, yet it is difficult to imagine Na`vi going anywhere but up from here.
All eyes now focus on Denmark and the playoffs in what should be a fascinating conclusion to Season 6.