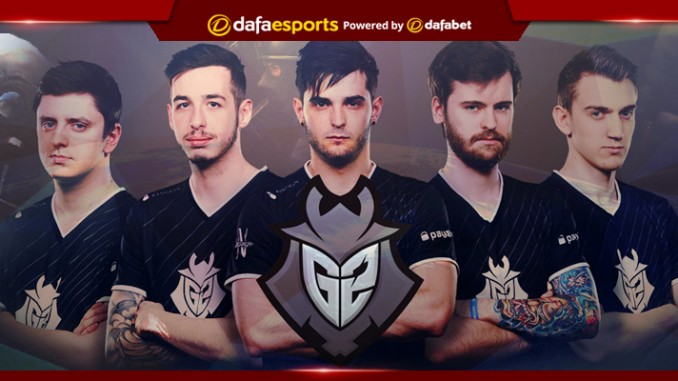 The Esports Championship Series Season 5 Finals at the SSE Arena in London shape up as an event chock-full of intriguing storylines, primarily around recent roster transitions.
Massive changes at G2
The largest overhaul to a line-up is that of G2, with shox, SmithZz and Ex6TenZ joining in place of mixwell, NBK- and apEX. The previous iteration of this roster failed to live up to the hype as many believed the duo of kennyS and shox would help promote this team to consistent title contenders. However, G2 Esports were essentially a regular quarterfinal side with the occasional deep run in a tournament. This was seen as disappointing given the overall wealth of talent on the roster, so although kennyS and shox remain, this change has a greater tactical emphasis given the addition of legendary in-game leader Ex6TenZ.
This is a difficult first test for G2 given the quality pool of teams at this event, although being placed in Group B alongside NRG, FaZe Clan and Luminosity certainly helps their odds of making the Playoffs at least.
Fnatic make a move
Another team having undergone a recent roster change are Fnatic, who have added Xizt in place of Lekr0. Fnatic's move came as something of a surprise given the team's continued presence within the Top 5 of the rankings, although there was room for improvement given this has primarily come off the greatness of KRIMZ as he continues his resurgence.
Another odd choice for Fnatic is having Xizt claiming the mantle of in-game leader in place of Golden, who had been considered a solid tactician albeit a player who has struggled to get kills on the server.
Fnatic are searching for a consistent second star to assist KRIMZ and they are hoping that this line-up will elevate the play of either flusha or JW. With two top teams in Astralis and Liquid within their group, even a Playoff appearance would be a solid start for this new look Fnatic side though. 
FaZe Clan too
Also making a change are FaZe Clan, although in their case this is a temporary move rather than a long-term decision.
Cromen will be standing in for olofmeister after it appeared olof would finally be making his return to pro play. Out for personal reasons, the return of olofmeister has long been in question, with this last-minute change being another setback.
Cromen is no slouch, however, playing well during his time as a stand-in for Heroic, with that team performing much better than anticipated with him in the ranks.
Cloud9 have issues
One team in an odd position are Cloud9, who are fielding FNS despite his move to the inactive roster. Cloud9 are unable to have another player due to already making a roster moving during the ECS season, that being the initial addition of FNS from compLexity. Thusly Cloud9 are playing with FNS, although it appears tarik will be picking up the in-game leader role in an attempt to return Cloud9 to their former glory.
The move to acquire FNS appeared to be a decent idea at the time as the plan was for Cloud9 to lean more heavily on tactics and structure with the loss of Stewie2K to SK Gaming. However, FNS being removed after such a short period suggests behind the scenes turmoil and continued disagreements within the team on how things should be run from a tactical perspective.
Previously Cloud9 found success with their loose style of play, returning to that format for this event. With rumours of NBK- and others possibly filling the gap for Cloud9, this tournament is likely to be something of a last hurrah for what appears to be a failed roster.
Conclusion
There's a $250,000 first place prize up for grabs at the SSE Arena at Wembley when the teams get going this weekend. The ever-changing composition of the sides make this a hard event to handicap though as the eight contenders look to claim the title in what should be a very competitive affair.