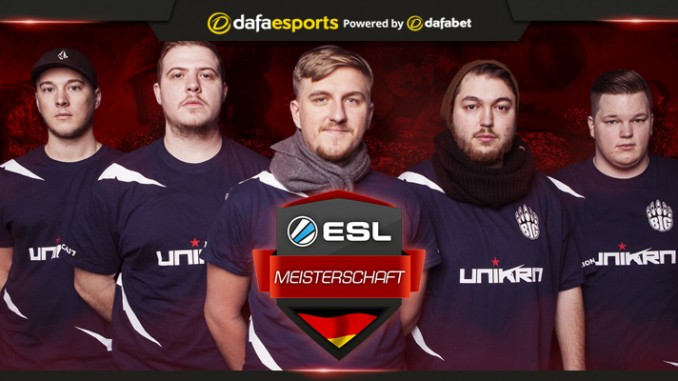 Over the past month, teams have battled it out over five different qualifying cup competitions to make it to the ESL Meisterschaft Spring Championships, with a spot in the ESL One: Cologne 2017 closed qualifier up for grabs.
There were a total of 22 CS:GO teams that took part, with eight making it to the ESL Meisterschaft Spring Championships. Ultimately BIG came out on top, defeating ALTERNATE aTTaX 2-1 in the Finals at Landscape Park in Duisburg, Germany.
BIG came into the Championships as the third overall seed based on the standings after the five cups, but this may have been misleading. The mainly German squad finished 1st in both of the first two cup qualifiers and did not participate in any of the remaining three, therefore receiving no further qualifying points from those events.
New organization stepping onto the scene
Along with clinching the spot in the ESL One: Cologne 2017 closed qualifier, BIG picked up $8,799.22 for winning the ESL Meisterschaft. Made up of three former NRG players in gob b, LEGIJA and tabseN, this squad at least has some experience at a semi high professional level. BIG have only been an organization for around four months though after being created in January 2017.
Leading the way for BIG was former Mousesports Gaming player nex, with the 24-year old German putting in an impressive showing in the Finals in particular. Through this three-game series nex averaged 28.3 kills per match and finished with an ADR of 106.6, which was 24 points better than his closest teammate, LEGIJA, who scored 82.1. The German rifler also averaged almost one person killed and 98.8 damage per round during the tournament.
Planetkey Dynamics prove they are worthy of top seed in Group A

Planetkey Dynamics came into the Group Stage of the tournament as the number one seed, with the German organization having picked up the most points from the five cup matches. However, this was slightly misleading as Planetkey Dynamics received 150 of their 245 points in the final two cups, which a few of the top teams did not attend, having already qualified.
Once in the Group Stage, however, Planetkey Dynamics stomped their way through Group A, advancing in 1st place with a 2-0 record.
In Group B BIG also cruised to a 2-0 1st place finish, with second overall seed ALTERNATE aTTaX surviving a scare from upstart sixth seed n0_0rg to advance to the bracket stage with a 2-1 overall record.
Bracket stage begins and underdogs perform
ALTERNATE aTTaX made surprisingly quick work out of Planetkey Dynamics in the first semifinal, with convincing wins on Cache 16-3 and Nuke 16-10, although it must be noted that ALTERNATE aTTaX had previously defeated Planetkey Dynamics 16-5 in the Finals of Cup 3.
In the other semifinal it was a tale of two completely different types of game, with BIG dominating Games One and Three while the second game came down to the wire as PANTHERS, who had finished 2nd in Group A, secured the win.
BIG opened with a 16-2 rout on Mirage in PANTHERS' first map pick. The two organizations had their closest match on BIG's map pick of Cobblestone, with PANTHERS claiming the map 16-14 with some solid play from mirbit and LyGHT. BIG finished off the semifinals with a performance no less dominant than in the first game with a 16-4 victory on Overpass.
BIG claim their place among the big boys
BIG faced ALTERNATE aTTaX in the Finals, taking the opening game with a 16-12 victory on Cache only to see their opponents bounce back to take Train 16-13 in the second game.
In the winner-takes-all final clash BIG star player nex stepped up in a big way after putting up average numbers against PANTHERS in the semis. The former Mousesports player dropped 32 kills, helping BIG to clinch a 16-14 victory on Inferno and with it the title. ALTERNATE aTTaX's ecfN was able to pick up 30 kills in the game, but wasn't able to push his squad to the title.
All in all it was a satisfying title for BIG, who used the experience of their players to assert their quality. The German scene still trails many others in terms of overall play, but tournaments like the ESL Meisterschaft Spring Championships should help to improve this.