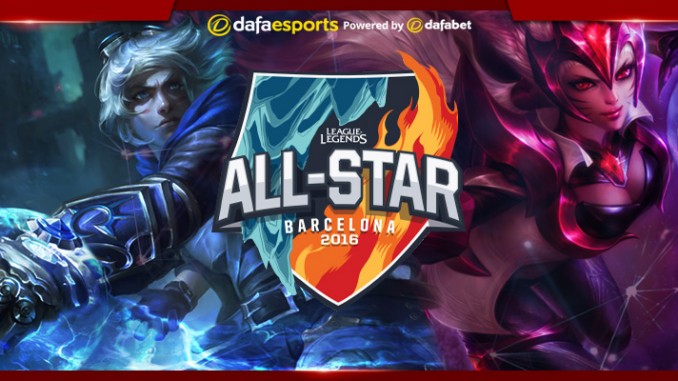 The annual pre-season tournament in the world of competitive League of Legends play takes place this week at the Palau Sant Jordi, in Barcelona, Spain. Unlike the mid-season All-Star event, which has important considerations for competitive play and team success, the Barcelona All-Star event is for fun and bragging rights only. However, this does not make it any less competitive, as the fan favourites are keen to be crowned winners.
Selection via fan voting
Unlike the Mid-Season Invitational where the top teams in each region are selected, here the players are voted in by the fans to determine who will convene in Barcelona and show off their skills in a series of competitions.
Each region first put together their respective All-Star teams and then the six regions attending were split into two overreaching groups. Korea's LCK, the International Wildcard GPL, and North America's LCS have been grouped together as Team Fire while forming Team Ice will be China's LPL, Taiwan's LMS and Europe's LCS. These overall groupings, Fire and Ice, will then be the base match ups throughout the series of events with one team or one player from each set to clash.
North America battles Europe
A key matchup kicks off the event when Team Fire's North America faces off against long-time rival Team Ice's Europe. Look for this game to be decided in the mid lane, where North America's superstar Bjergsen (whom is ironically Danish), squares off against Origen's and Europe's xPeke. While xPeke is deservedly a favourite with the fans, he had to come out of retirement last split and play a different role, in AD Carry.
It will therefore be fascinating to see how much of a mismatch this mid lane ends up being. Bjergsen will also have a major impact in the 1v1 tournament as he heads to Barcelona as the returning champion. Bjergsen beat out fellow teammate Doublelift in last year's final 2-1 in a best of three to claim the title as the 1v1 king.
The Dane will look to start his title defence with a win against EDG Jungler Clearlove which could help to kick start his journey back to the top.
It would be no surprise if North America's Counter Logic Gaming's Aphromoo and China's Royal Never Gives Up's Uzi made some noise in the 1v1 tournament.

Different styles to do battle
It is fascinating to compare Aphromoo and Uzi due to their very different styles of play. On one side of the spectrum is Aphromoo, a player who is willing to take on almost any champion in the game and has an innate ability to surprise his opponent and catch them off guard. At the other extreme is Uzi, one of the most mechanically gifted players in all of League of Legends and a formidable opponent. Look for Uzi to stick to an AD Carry this weekend to try and shut down his 1v1 rival.
Multiple other competitions are on tap at the Barcelona event which includes an all Marksmen competition (5v5 only AD Carry's are allowed), One for All (where each 5v5 team is playing five of one champion), Tandem mode (where two players control one champion, one on the keyboard and one controlling the mouse), and Assassin mode where only assassins are allowed.
Assassin mode is quite possibly the most intriguing of the bunch, with the recent release of the Pre-Season 7 patch that completely reworked a majority of the assassins. Team Fire would seem, at least on paper, to have the edge in this one, with two of the most highly regarded assassin players of all time, SKT's Faker and TSM's Bjergsen being on their roster.
As always this is an enjoyable and fun tournament which is taken seriously but it is very much a taster for what lies ahead with excitement building as we approach Season 7.