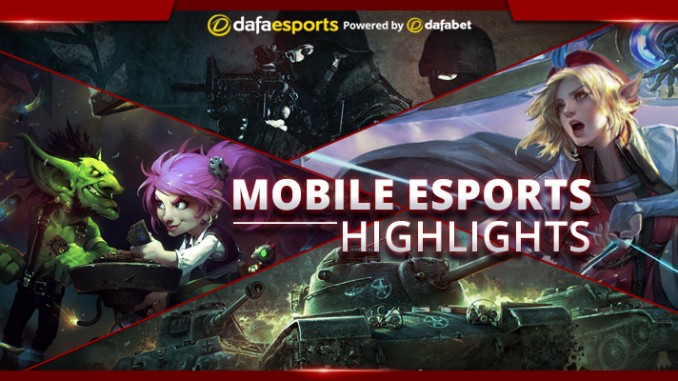 The eSports scene keeps growing with each passing year and 2016 was no exception.
While League of Legends, Dota 2 and Counter Strike may be the titles that come to mind when eSports are mentioned, there was a huge leap in mobile titles during the course of the year.
The popularity of some mobile games now not only rivals that of traditional PC games, but in some cases surpasses it. And when a game possesses a large player base as well as a solid and balanced multiplayer system, the progression to becoming an eSport is only natural.
Here are some of the most influential mobile eSport titles of the last 12 months.
Hearthstone
Hearthstone was one of the most watched eSports in 2016. The game was released in 2014 and it took less than two years for it to develop into one of the most popular eSports titles, becoming the second most watched video game in 2016 with 40.75 million views on Twitch.
Defined as a "free-to-play online collectible turn-based card video game", Hearthstone was designed by the gaming giants Blizzard, whose experience in eSports with the StarCraft and WarCraft franchises was key to Hearthstone's quick ascension in popularity.
Almost $7,000,000 has been given away as rewards at competitive events, including $1,000,000 at the prized Hearthstone World Championship 2016. Some of the most popular players are the current world champion Pavel "Pavel" Beltukov, James "Firebat" Kostesich and Artem "DrHippy" Kravets.
Clash Royale
It did not take long for a game that was released this year to become one of the most popular mobile titles of all time. The main reason why Clash Royale was so successful is because it is the successor to "Clash of Clans", a freemium mobile MMO strategy game released in 2012. Clash of Clans was hugely successful so it is no surprise that Clash Royale reached 10 million downloads only nine days after its release.
In terms of genre, Clash Royale is a unique mix between an online strategy game and an MOBA with the mechanics of a collectible card game.
Clash Royale is still behind some other games in terms of the value of cash prizes on offer, with only around $100,000 having been given away in tournaments over the past year. However, this is expected to increase significantly in 2017.
The big-name players in Clash Royale include the Taiwanese phenomenon TMD YAOYAO, who won the biggest tournament of the year – The King's Cup, and Backstabx, the winner of the recently concluded Clash Royale Crown Duel Tournament.

Vainglory
Vainglory is another free to play title which became one of the most popular mobile eSports in 2016. It was released in November 2014 and became the fastest growing mobile game in terms of viewership on Twitch the following year. By December 2016, the game had had more than 25 million views on the platform and boasts more than 1.5 million active monthly users.
Vainglory's success in terms of its gameplay is the fact that it has managed to translate an MOBA game into the mobile format without changing the essence of the genre. Staying true to the spirit of the PC MOBA, the mobile version incorporated the genre's key gameplay mechanics such as destroying an enemy core building, hero roles, map structure and item purchasing, while simultaneously making it more accessible with features such as fewer players to play, fewer lanes and a more simplified itemization system.
In terms of prizes, more than $600,000 has been given away in various tournaments thus far. The largest is the World Championship, with a prize pool of $120,000 on offer. This competition was recently won by the South Korean team Phoenix Armada, who feature arguably the best player in the world right now, Ahn "druid" Hyun Joon.
Conclusion
The past 12 months have been another year of growth in mobile eSports as mobile competitive video games essentially offer the same mechanics that make eSports in general so appealing. Apart from the platform they are played on, all these games share the most important concepts of a traditional eSport – the opportunity to test your skills against someone else combined with addictive gameplay. However, mobile eSports seem to have two advantages over traditional eSports – accessibility and simplicity – and this might just help them become the dominant format in the future.
Sources:
https://www.statista.com/statistics/507786/leading-game-content-twitch-by-number-hours-viewed/
http://www.iphonelife.com/content/vainglory-and-rise-mobile-esports
https://www.statista.com/statistics/589405/fastest-mobile-games-reach-10-million-downloads-worldwide/
http://www.esportsearnings.com/
http://blog.vodafone.co.uk/2016/09/12/rise-mobile-esports-play-vainglory-living/
https://www.iphonelife.com/content/game-centered-mobile-games-trends-surprising-app-store-hit-and-engrossing-maze-game