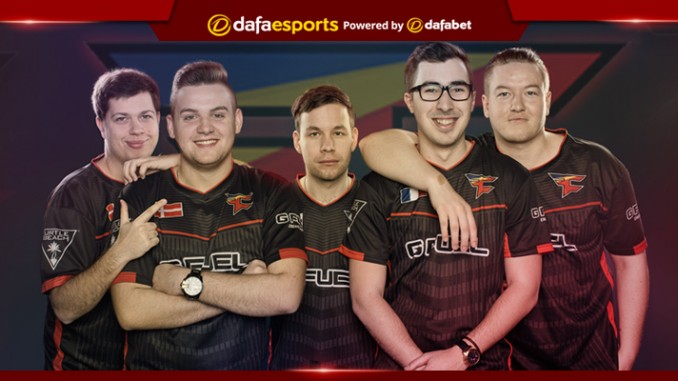 The National Palace of Arts in Kiev, Ukraine, was the setting for the latest StarSeries CS:GO action as FaZe Clan launched an incredible run to become StarLadder i-League StarSeries Season 3 champions.
FaZe Clan struggle early on
FaZe Clan struggled to find their footing early in the Group Stage as they were shocked in their opening match against HellRaisers, losing 16-10 on Cache.
FaZe bounced back against the Brazilians of Immortals though, this time on Mirage with the same 16-10 scoreline. NiKo shone for FaZe Clan, dropping 26 kills in just 26 rounds in this encounter.
In their next bout FaZe atoned for their earlier loss on Cache by defeating up-and-coming side Gambit Esports, this time in nail-biting fashion, 16-13.
Needing one more win to advance, FaZe fell to North, this time finding themselves on the losing end of a 16-13 Cache game.
Facing elimination, both rain and kioShiMa then had stand-out performances in a 16-7 victory over SK Gaming on Train, posting 22/2/10 and 24/5/14 (K/A/D) scores respectively.
Rain leads the way
FaZe Clan were paired against the French super team G2 Esports in the quarterfinals of the Playoffs. Many expected G2 to come out on top given their 3-0 record in the Group Stage, but FaZe surprised.
Game One of the best-of-three series was all about FaZe's AWPer (sniper) allu. Facing two of the best AWPers in the world in kennyS and shox, allu put in a masterful performance on Inferno. Posting a 1.93 rating, allu secured 28 kills in a mere 23 rounds as FaZe claimed the map 16-7.
After a back-and-forth defeat on Nuke (16-11), FaZe once again found themselves in a do-or-die game on Train. And once again rain led the way, achieving 24 kills in 26 rounds in the 16-10 win, pushing FaZe to a semifinal rematch against their first opponents of the tournament; HellRaisers.
Revenge is sweet
Opening up on Mirage, in-game leader karrigan had his break out game, dropping a 30 bomb (30 kills) in an incredibly close 16-13 victory.

Then once again FaZe found themselves on Train, and right on schedule rain was the best player on the server. It was nervy towards the end though as FaZe found themselves at match point on 15-10 before HellRaisers put together a threatening run. Off the back of a ninja defuse, HellRaisers pulled off four rounds in a row to bring the score back to 15-14. However, rain found his final two kills in the last round, securing the win for FaZe and setting up a date with the number one team in the world, Astralis, in the Finals.
Danes stand in the way
In an incredibly close Finals, the three maps chosen were Mirage, Nuke and Inferno.
On Mirage FaZe had the largest lead of the match at 13-10 before seeing it all slip away. FaZe lost six of the last seven rounds to lose in devastating fashion 16-14. Perhaps most concerning for FaZe was superstar NiKo's incredibly poor play as he picked up only 13 kills in 30 rounds while amassing 19 deaths, by far his worst performance of the tournament.
Many doubted FaZe's ability to bounce back after such a shocking result, but the team came out of the gates firing on Nuke. Winning 11 rounds on the CT side, FaZe picked up five of the next seven on the T Side, giving them a quick and clean 16-6 win. Once again kioShiMa, who is primarily known as the support player of the team, had a stellar game as he amassed 24 kills.
It all comes down to Inferno
With everything on the line, FaZe and Astralis battled it out until the very end on Inferno.
It was Astralis who enjoyed the hot start this time around as the Danes secured 10 rounds on their CT half, giving them a comfortable lead heading into the T side.
The second half was an absolute slugfest though, with neither team securing more than three rounds in a row at any point.
After finding themselves down 13-15 with Astralis on map point, FaZe clawed their way to a tie at 15-15, forcing an Overtime in which both teams would have to play three rounds on each side, with the first to four wins being the victor.
FaZe won only one round on their CT side during Overtime, putting themselves under pressure heading to their T side. However, FaZe secured the first two rounds, moving themselves to championship point, with Astralis having almost no money to buy proper weaponry. FaZe seized the opportunity with a slow take of the A site, securing them the round victory and with it the championship.
Astralis remain the best team in the world, but FaZe Clan's deserved victory here was a reminder that the Danes cannot rest easy in what should be a competitive year of tournament play.