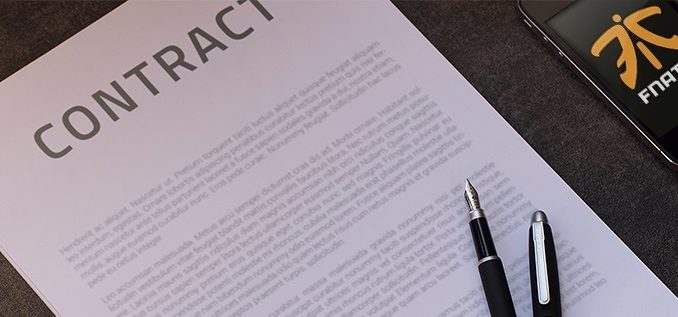 We often see posts on social media that ask eSports personalities or players for more details about getting a career in the scene. People see their idols perform on stream and they believe they can only dream of having a job like this. In reality, all it takes is hard work, determination and a bit of luck. To get you started we gathered these 7 tips from the professionals at Fnatic. Spoiler: You can do them too.
1. Don't be afraid to work for free (for a while, anyway)
Volunteering is often frowned upon because it's essentially working without earning something. Nothing is further from the truth however, as you may not get cold hard cash for your efforts but you will get certain things in return.
Experience for example. If you are still in school then volunteering is the perfect way to put what you're learning into practice. Once you're done studying, this allows you to go looking for your first eSports job with a portfolio that can show potential employers what you're capable of and it will make you stand out between all the other graduates with similar degrees.
Insider knowledge. As a volunteer you'll often know things before anyone else does. While this info is of course top secret, you can contribute by coming up with cool ideas about how to communicate the information to the outside world when it's ready, showing that you're capable of doing more than what was expected of you when you joined.
Free swag and event access. Most companies have a system in place to reward their volunteers by other means than money. Usually this includes branded apparel like shirts, hoodies, or mousepads but if you can prove your worth then event access or even back stage access is an option. As a photographer for example this could give you the chance to shoot exclusive photos, helping your build a portfolio as well as meet a ton of new people. Who knows, maybe you'll really shine and be able to convince your organisation that they need you at the event. When this happens, you're well on your way to a paid trip or even your first paid eSports job.
2. Network
Knowing the right people is important in every career. Equally so in eSports, and it's easier than you think. There is no reason to try and become best buds with Gabe Newell straight away, start small and work your way up. If you're a graphic designer for example, why not look for a Twitch streamer with a small audience and ask if they'd be interested in working together in a way that benefits you both? This way you can grow together by relying on each other to make introductions with people that would not have been within your reach otherwise. Do this with 5-10 people and your world suddenly got a whole lot bigger.
3. Be active on Twitter and Reddit
A great way to reach out to people is Twitter. It is the social network that gets used the most by esports fans and personalities thanks to its functionality of communicating short messages, pictures and video in real time. It's also great for 1-on-1 discussions and it allows you to reach out to people you've never met before.
The search function on Twitter is vital to using the platform to its full potential. Look up a hashtag for your favorite game or current tournament and see what people are saying. It will help you increase your knowledge of the scene but it also puts you out there where you can be seen. When you've created a piece of content and want it to be seen by the person it's about then this is where you share it. If a League of Legends caster for example likes the video montage you've made of him, he might share it with his tens of thousands of fans. If your content is good and you can get it noticed on a regular basis, then people will start recognizing you. Suddenly you become the one with the fanbase, creating endless possibilities for a career in eSports.
When it comes to content, Reddit is another key platform. If an article for example does well on Reddit, it can be seen by thousands of people, giving you an immense boost in exposure. Not only is Reddit good for sharing content, it is also a great platform to share your professional opinion on various topics. None of this will come overnight but once people start seeing you as an expert on a subject then you'll become their go-to guy/girl when they are looking for more insight and if all goes well, people might just be willing to pay for it.

4. Don't try to do it all
Getting a job in eSports is similar to trying to rank up in your favorite game. If you're gonna try to play 110 different champions you'll get nowhere. It's important that you figure out what you're good at and stick with it, at first anyway. If you're a writer who has been following the Dota 2 scene for years, don't try to write about League of Legends which you've never played. Show the world that you're super knowledgeable about Dota 2 and can produce great content. Once you get to a certain level you can start branching out and "play more champions" because your experience will help you pick it up way faster.
5. Teach yourself
A lot of eSports careers require specific skills and knowledge that you won't find in a college curriculum. The are no courses you can take to become a shoutcaster or a Twitch streamer so it's important that you identify what you need to succeed and start working towards it. If you want to become a Youtuber for example, you might want to look for an education in film and video while learning the ins and outs of social media on your own time. Need some nice thumbnails for your videos? You can add a Photoshop class to the list or watch a bunch of tutorials online. Anything you need can be found on the web and it's often free if you know where to look.
6. Be patient
Now. Now. Now. Accepting that you won't see immediate success is key. You can make videos for months and get no more than 20 views on each but you'll know you're going in the right direction if you see clear improvement between you first video and your last. The same goes for volunteering, you could be doing small, unimportant tasks for a while before finally coming across an opportunity that works out for you and that's okay. Always evaluate the things you are doing and make sure there is room for you to grow.

7. Have passion
Esports isn't a nine to five job. Events often take place during the weekends and it's not a rare occurrence that international matches get played in the late evening or even after midnight in your region. This will make for some odd working hours and if you're not passionate about the work you're doing then you'll most likely burn out over time.
We hope these tips will help you move toward your very own eSports career. Make sure to share them with your friends because it's a journey that's better together. You can also follow us on Facebook and Twitter if you want, we'll have more interesting content coming out soon!